Obama Reportedly 'Furious' and 'Livid' With Trump Over Wiretapping Accusations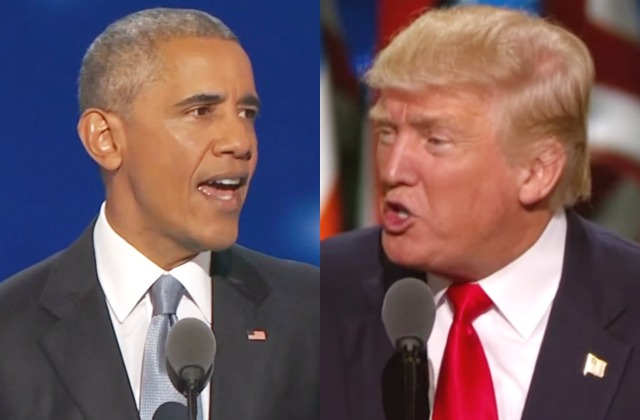 According to the Wall Street Journal, this past weekend's series of tweets from President Donald Trump in which he accused his predecessor of wiretapping his phones prior to the election has caused the relationship between the two men to crumble.
The rapport between Barack Obama and Donald Trump is unraveling, with the president convinced that Mr. Obama is undermining his nascent administration and the former president furious over Trump tweets accusing him of illegal wiretapping, people close to the two men said.

The budding feud between two men who share the unique bond of membership in the commander-in-chiefs' club is a fresh distraction in a Trump presidency that has been struggling to enact its agenda.
The two men haven't spoken since Inauguration Day. However, Trump did attempt to contact Obama to thank him for the letter he left in the White House. The former POTUS was traveling at the time, but since then he's apparently decided not to try to connect back with the current White House occupant.
Shortly after Trump won the election, Obama promised to provide him with advice and counsel, bringing him into the White House shortly after Election Day and reportedly advising him on certain transition items. In interviews, Trump said that he had a good relationship with the former president, saying he believed Obama liked him.
However, times have quickly changed, and now Trump thinks Obama "is at war with him," according to Newsmax CEO Christopher Ruddy, a close friend of the president's. Besides blaming Obama for wiretapping his phones, Trump also believes Obama loyalists are behind leaks to the media, which he has constantly railed against.
While Obama has said he wouldn't publicly react to every off-hand comment by Trump, one wonders if the wiretap claim is a bridge too far. An Obama spokesperson already issued an official statement saying the allegation was "simply false."
Keeping a low profile in post-presidency, Mr. Obama had decided he wouldn't respond to every intemperate Trump tweet, an aide said.

But he was livid over the accusation that he bugged the Republican campaign offices, believing that Mr. Trump was questioning both the integrity of the office of the president and Mr. Obama himself, people familiar with his thinking said.
Since accusing Obama of wiretapping him, Trump has also taken to Twitter to erroneously claim that the former president was responsible for releasing 122 prisoners from Guantanamo Bay that re-engaged in combat. The fact is that while 122 had returned to the battlefield, 113 of them were released by George W. Bush.
[image via screengrab]
——
Follow Justin Baragona on Twitter: @justinbaragona
Have a tip we should know? tips@mediaite.com