Obama Surprises Reporters With Shock Off-The-Record Session, According To Report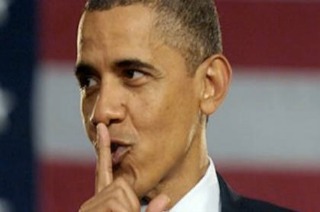 President Barack Obama held an off-the-record meeting with a select group of reporters on Tuesday in an effort to repair some of the damage done to his administration's relationship with political journalists in the wake of his Justice Department's sweeping subpoenas of communications records of AP and Fox News reporters. According to a report in BuzzFeed, one New York Times reporter "would have reconsidered whether to attend" had he known Obama would be in on the meeting.

RELATED: NWho's Attending Eric Holder's Off The Record Meeting With The Media?
"Reporters who attended Monday's session with the president were loathe [sic] to discuss it with BuzzFeed, citing the White House's stipulation that the meeting remain off the record," reported BuzzFeed's Evan McMorris-Santoro. "New York Times White House reporter Peter Baker said reporters had not been told that Obama would be in the session, and that if he had known, he and his editors would have reconsidered whether to attend."
"Our concern about off-the-record sessions with the president is that they not become substitutes for opportunities to ask questions and get answers on the record, which after all is our job," Baker told BuzzFeed.
The meeting came after the White House had announced that a "travel/photo lid" had been declared for the day, signaling that no more reportable news would be made that day.
Among those organizations present at the meeting were representatives and reporters from the New York Times, The Huffington Post, The Washington Post, TIME, McClatchy, POLITICO, The Tribune Papers, NPR, Bloomberg, USA Today, Yahoo, and AFP. "In total, about two dozen reporters were included," McMorris-Santoro reported.
In late May, Attorney General Eric Holder attempted to hold a similar off-the-record session with reporters. Many organizations, including the Times, declined to attend that session saying that any meeting between Holder and reporters should be on the record.
Read the report in BuzzFeed
> >Follow Noah Rothman (@NoahCRothman) on Twitter
Have a tip we should know? tips@mediaite.com