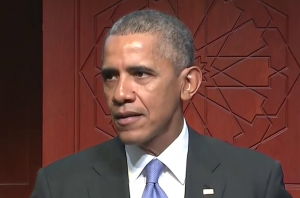 President Obama did a lot of reflecting on his Republican opposition over his near-eight years as president in an interview with New York Magazine out today.
He said he assumed (naively) that because Republicans ran things when America entered economic crisis, "there would be a window in which they would feel obliged to cooperate on a common effort to dig us out of this massive hole."
But instead, this happened:
If they cooperated with me, then that would validate our efforts. If they were able to maintain uniform opposition to whatever I proposed, that would send a signal to the public of gridlock, dysfunction, and that would help them win seats in the midterms. It was that second strategy that they pursued with great discipline. It established the dynamic for not just my presidency but for a much sharper party-line approach to managing both the House and the Senate that I think is going to have consequences for years to come.
Obama recalled how Fox News' coverage was "drifting" in a certain direction and how Rush Limbaugh became "much clearer about wanting to see me fail."
The president did say multiple times in the interview there were Republican leaders who seemed open to working together more, but couldn't indicate so publicly for fear of angering the newly-arisen tea party activists.
And, as far as Obama's concerned, there's a direct connection from this to 2016:
I see a straight line from the announcement of Sarah Palin as the vice-presidential nominee to what we see today in Donald Trump, the emergence of the Freedom Caucus, the tea party, and the shift in the center of gravity for the Republican Party. Whether that changes, I think, will depend in part on the outcome of this election, but it's also going to depend on the degree of self-reflection inside the Republican Party. There have been at least a couple of other times that I've said confidently that the fever is going to have to break, but it just seems to get worse.
You can read the full interview here.
[image via screengrab]
— —
Follow Josh Feldman on Twitter: @feldmaniac
Have a tip we should know? tips@mediaite.com
Josh Feldman - Senior Editor