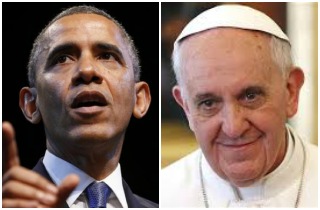 Since President Barack Obama's State of the Union address and culminating in a series of speeches in the late fall, 2013 has been marked by a White House-led effort to introduce income inequality into the national consciousness. According to a Christmas morning item in the Los Angeles Times, Obama is seeking to draft a new ally into that increasingly pressing political battle: Pope Francis.

"When a White House speechwriter turned in a draft of a major speech on economic policy this month, President Obama sent it back with an unusual instruction: Add a reference to the pope," the LA Times' Kathleen Hennessey reported.
She observed that Obama personally wanted to cite a quote in which the Pope admonished the political press for failing to focus on the plight of a dying homeless man in favor of the growth or contraction of the macro economy.
Hennessey added that Obama went conspicuously further in his praise of the Pope when, in an interview with MSNBC's Chris Matthews, he called Francis an "extraordinarily thoughtful and soulful messenger of peace and justice."
RELATED:Obama: America's 'Opportunity Gap' as Much 'About Class as It Is About Race'
Aides, who would describe White House discussions only on condition of anonymity, said Obama had talked about the pope with members of his inner circle, which includes Chief of Staff Denis McDonough, a Catholic whose brother Kevin is a priest and former high-ranking official in the archdiocese in St. Paul, Minn.

The president, the aides said, has read the ample news coverage of the pope's activities, including reports on Francis' apostolic exhortation on economic justice, which was his first major writing since he became head of the church in March.
Hennessey noted that American presidents have regularly sought to appropriate the gravitas that accompanies being the head of the international Catholic Church, but that this Pope's affinity for focusing on the plight of the poor is particularly attractive at this point in Obama's presidency.
[Photo via AP ]
— —
> >Follow Noah Rothman (@NoahCRothman) on Twitter
Have a tip we should know? tips@mediaite.com