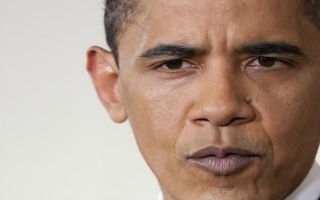 The United States and President Barack Obama have suffered a pretty bad week, but for varying reasons. The U.S. was dealt a heavy blow Tuesday when the American Ambassador to Libya, Chris Stevens, was brutally murdered in a coordinated attack on a consulate in Benghazi. But the focus of most of the press has, to their disgrace, been on the appropriateness of the timing of Republican presidential nominee Mitt Romney's attacks on the president over this incident. In the space of the last 24 hours, however, the president has committed two offenses against both etiquette and policy that should be reported on extensively.

On Wednesday, in an interview with the Spanish-language network Telemundo, the president was asked about the attacks on two U.S. embassies in North Africa, specifically a breach of America's embassy in Cairo by crowds of protesters. The Telemundo reporter asked if Obama considered Egypt an ally. Obama replied that the United States did not consider Egypt an ally, "but we don't consider them an enemy."
This remark displays a flippant nonchalance about American security policy and a downright antipathy for history and the work of generations of Obama's predecessors.
The United States, in concert with Egyptian President Anwar Sadat, wrestled the key Arab state away from the Soviet sphere of influence during the tenure of President Jimmy Carter. This effort culminated in the 1979 Camp David Accords, which are better known for cementing a lasting peace between Egypt and Israel. The agreement also served as a basis for a lasting partnership between Cairo and Washington — this relationship has safeguarded peace in the region for more than a generation.
By cavalierly saying Egypt is not an ally of the United States, the president has bucked more than 30 years of American foreign policy in a critical region. This casual display of disregard for precedent and a pillar of diplomatic policy should inspire a measure of outrage. On that front, there is a glimmer of hope. On Thursday, NBC News' chief foreign correspondent Richard Engel delivered a rebuke of Obama's dismissal of America's relationship with the Egyptian government.
But the tepid outrage of one reporter does not a trend make. This episode merits wider reporting and at least some debate over how appropriate it is for the president to single-handedly usher in a major shift in American global security policy vis-a-vis our relationship with Egypt.
Following what can only be correctly described as a gaffe regarding Egypt, the president made what can only be correctly described as a gaffe on the campaign trail.
While attending a campaign rally on Wednesday in Las Vegas – yes, a campaign rally, on a day marked by such solemnity that the press viewed it necessary to harangue Romney for even broaching the subject of politics – President Obama drew a comparison between the sacrifices of his campaign volunteers and those of the American service personnel who lost their lives in Libya just hours prior.
"And obviously [our] hearts are broken for the families but I wanted to encourage those folks at the State Department that they were making a difference," he said.

"The sacrifices that our troops and our diplomats make are obviously very different from the challenges that we face here domestically but like them, you guys are Americans who sense that we can do better than we're doing….I'm just really proud of you," he added
Had this statement not occurred in an environment marked by the most farcical displays of outrage over Romney's supposed breach of conduct, it could go ignored. However, in light of how the press jumped down Romney's throat over the process and tone of his criticisms of Obama (watch the press conference here if you missed it), the media will be correctly accused of putting its thumb on the scales if they do not treat this statement with a similar measure of distress.
This summer, during a much-panned visit abroad after having offended the British people by questioning London's preparedness for the Summer Olympics, Mitt Romney was asked by a perturbed member of the political press, "What about your gaffes?" I eagerly await the press directing this loaded question towards the president. At this point, the credibility of the political media just about depends on it.
UPDATE: An Obama administration official has clarified the president's remark about the alliance between the U.S. and Egypt. White House spokesman Tommy Vietor told Foreign Policy Magazine that people are "reading too much" into Obama's comments.
Ally' is a legal term of art. We don't have a mutual defense treaty with Egypt like we do with our NATO allies. But as the president has said, Egypt is longstanding and close partner of the United States, and we have built on that foundation by supporting Egypt's transition to democracy and working with the new government.
As all know, it's always necessary to issue a clarification when you are properly understood the first time. Oh, to be a fly on the wall at Foggy Bottom today.
> >Follow Noah Rothman (@Noah_C_Rothman) on Twitter
Have a tip we should know? [email protected]