Ohio Police Chief Takes Some Serious Issue with Kanye Comparing Himself to a Cop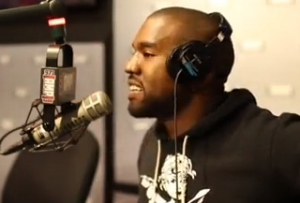 Kanye West is back in the headlines this week, and not just because of South Park. West recently compared his life to a police officer's because "I'm… putting my life at risk." This upset an actual police chief, who took to Facebook with some tough words for West.


RELATED: Kanye West: Obama 'Used' Me, 'I'm Not Gonna Mention Him No More'
During an interview, West made some rather odd comments about the perils of his life as a star rapper.
"I'm just giving up my body on the stage and putting my life at risk, literally… And if I slipped… You never know. And I think about it. I think about my family and I'm like 'Wow, this is like being a police officer or something, in war or something.'"
The line obviously offended a few actual cops, and Police Chief David Oliver, from Brimfield, Ohio, posted quite the epic Facebook post "thanking" West for his brave service in the line of rap.
I want to thank you for putting your life on the line for all of us every day. I know that being a rapper is tough work. I have tried to rap, and it is very difficult to keep up with the pulse of the rhyme flow…although when Ice Ice Baby comes on the radio, I can usually keep up with ol' Vanilla. Anywho, your job is just some very dangerous work. Most people don't consider… if you rap really fast, without a chance to inhale, you could pass out and hit your head.
And the hits just kept on coming, with Oliver offering a pretty good suggestion for how West could better his time.
Since you are accustomed to danger, from your life as an international rapper, I am strongly encouraging you immediately abandon you career as a super star and join the military… When the Taliban starts shooting at you, perhaps you could stand up and let the words flow. It could be something like "I'm Kanye West, wearing a flak vest." I'm sure they would just drop weapons and surrender.
He concluded, "Check yourself, before you wreck yourself."
*MIC DROP*
You can read the full Facebook post here.
[h/t TIME]
[photos via screengrab]
— —
Follow Josh Feldman on Twitter: @feldmaniac
Have a tip we should know? tips@mediaite.com
Josh Feldman - Senior Editor