One-Way Trump-Kelly Feud Gets Debate Sequel; Ludicrous Hype to Send Viewership to 25M+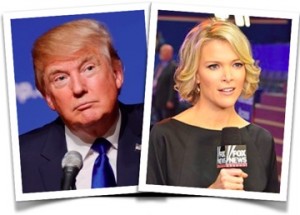 When it comes to Fox News and presidential debates, there is no Plan B on the moderator front.
As announced today, Bret Baier, Chris Wallace and, yes, Megyn Kelly have been tapped to moderate the network's second GOP debate on Thursday, January 28th from Des Moines, Iowa. As a result, we'll have our first face-to face interaction between Ms. Kelly and GOP frontrunner Donald Trump, who continues to take shots at the Fox News primetime host more than four months since their infamous debate encounter last August.
Audiences for the GOP debates have relatively fallen since the first two in August and September. On August 6th on Fox News, the network shattered an all-time record for viewership with 24 million tuning in on a Tuesday summer night. About one month later, CNN nearly matched it with 23 million. Since then, the number of folks tuning in has still set all-time records for CNBC (15.9 million) Fox Business (14.5 million), respectively, while CNN still captured an impressive 18 million for the fifth and final Republican debate last Tuesday.
Are the falling numbers because of debate fatigue or the novelty wearing off? Note: FBN (82 million homes) and CNBC (91 million) are seen in fewer homes than Fox News and CNN, helping to bringing those totals down. To that end, let's use CNN's 18 million from last week as a gauge, which is still a number the network is surely happy with (context: CNN drew just 3.6 million for a GOP debate at a similar time of year in 2012): 23 million for September vs. 18 million in December. Novelty diminished and debate fatigue responsible for the loss of five million people? Certainly makes sense…
So will the downward-but-still-remarkable-viewership trend continue for Fox News come January 28th when Trump and Kelly square off again?
Absolutely, positively, in-no-way-shape-or-form not.
Here's an early prediction: Because of the hype that will reach — to use a old Spaceballs term — ludicrous speed because of Donald and Megyn alone, this debate will beat 24 million. It'll beat 25 million. In boxing terms, this is Ali-Frazier II. Tyson-Holyfield II. Snooki-Sammi Sweetheart II. But really, Fox brass had no choice here: Sidelining Kelly would be seen as some kind of concession her questions were unfair in Debate 1 (they weren't). There's also a business consideration here, and without her — and the possibility of a huge confrontation initiated by Trump when responding to a question he deems unfair — on board, viewership drops by five million without even blinking.
Also note: This whole so-called war has been of the one-sided variety. Kelly could have stoked the flames for ratings/attention sake and goaded Trump from behind her desk on a nightly basis (it's not like there isn't ample material there to do so five nights a week). But she refuses to take the bait via Trump's (unprompted) Twitter tantrums and — at least from this perspective — plays it down the middle when reporting on Trump news that particular day. So the hype won't come from Kelly or Fox so much, but from outside the usual bubble (Entertainment Tonight, The View, etc., even other cable news networks) because of the entertainment angle that will be pushed thanks to Trump and Kelly's increasing exposure following a very successful move to primetime.
Know this: If Trump wants a war, if he wants his jabs to be reciprocated in kind, he isn't getting that satisfaction from Kelly. Why? Because she's smart enough to understand what her long-term brand prospects are by staying above the fray. So while getting in the mud with Trump may somewhat pay off for the short-term, it would ultimately cheapen the product (her). More importantly, such a provocative approach would only validate Trump's claim that Kelly is out to get him… which never made any sense to begin with.
With the holidays on cable news comes time off for the varsity hosts. The debates are over for the year. Save for a big breaking story, cable news goes into the perfunctory Year in Review mode. But after the ball drops and everyone goes back to work a few days later, rest assured this debate on Fox News will be the most hyped cable news political event you'll see perhaps, like, ever…
Come late January, get ready. We'll be going to ludicrous speed.
Is the hype warranted?
Of course not.
But this is the reality TV version of the rollercoaster ride to the White House: Everything gets blown out of proportion. And something else that will get blown out is Fox's own debate audience record…
All from a war one side isn't even participating in.
— —
Follow Joe Concha on Twitter @JoeConchaTV
[images via Wikipedia Commons]
Have a tip we should know? tips@mediaite.com