Online Community 'Humans of New York' Raises $3.5 Million For Pediatric Cancer Research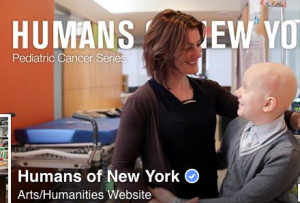 There is a lot of sad stuff in the world. We are in the middle of an election where everyone is yelling and insulting one another all the time. There are mass shootings. Some states are in a state of emergency because they are so riled up about transgender bathroom use. Worse yet, those are just the human-made problems! There are even sadder things beyond our control, like pediatric cancer.
Luckily, this Friday afternoon, I'm here to bring you some feel-good news that flies in the face of all that sad stuff. It is a direct challenge to the sadness that is, in particular, pediatric cancer. You've almost certainly heard of "Humans of New York," a Facebook group helmed by photographer Brandon Stanton that features photos of people in New York along with a personal story they've shared with him. It has 17,628,700 likes on Facebook. Even the least popular photos have thousands and thousands of likes, if not hundreds of thousands. Top comments can even net likes in the high thousands and most remarkably, the comments sections are often populated with well wishes and kindness. It is very rare to see negative comments about the people featured in the photos, even — and especially — when Stanton dedicates a few weeks to various series, like the time he only photographed refugees or the time he profiled inmates in prisons.
Stanton uses the kindness of his base to fundraise often. Whether the money is for elderly dogs or refugees trying to get to America or struggling schools in urban areas, he is known for setting up donation pages and letting his touching photos do the rest. This time, during a series on Memorial Sloan Kettering Cancer Center's pediatric unit, he and his followers outdid themselves. 97,541 people raised $3,597,495 in 15 days using this site right here.
To show you what inspired those 97,541 people, here are a few of the touching posts from the series:
Anyway, here's that donation page again and here's the Facebook page.
[image via screengrab]
For more from Lindsey, try Twitter or Facebook.
Have a tip we should know? tips@mediaite.com