Online Gamers Call For Virtual 'Ceasefire' On Friday In Honor Of CT Shooting Victims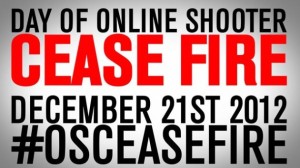 Video games have been in the media spotlight following Friday's tragic school shooting in Connecticut, and while many gamers don't accept the link between virtual violence and real-world violence, one group of gamers is calling on a gaming "ceasefire" in honor of the shooting victims. Antwand Pearman, the CEO and founder of GamerFitNation, is asking all gamers to put down the virtual guns and stop firing the virtual bullets as a "small sacrifice."
RELATED: Laura Ingraham, Gretchen Carlson Proudly Proclaim They Have Banned Video Games In Their Homes
Many politicians and pundits have been sharing their opinions about how playing violent video games can lead individuals to being violent in real life. Pearman is setting up the event, in part, to push back against that narrative.
"I wanted to make a statement. I wanted gamers to come together to say we don't accept this. This doesn't say we blame video games. We just believe this is for us to do to show respect to the victims. It's a small sacrifice for a day…

"You can't blame a video game for something like that — the real reason is mental health and gun control. He shouldn't have been able to get the type of assault weapons he had."
Some people posting on the event's Facebook page have said they are participating in the event to help push back against the narrative that gamers are "disconnected from the real world" or prone to violence or anything like that. The Facebook event currently has over 2000 people attending on Friday.
h/t ABC News
Have a tip we should know? tips@mediaite.com
Josh Feldman - Senior Editor