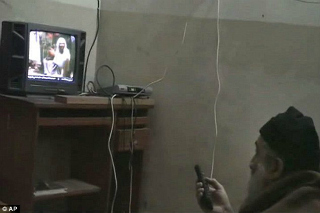 As we reported in March, Al Qaeda claimed that Fox News Channel was their least-favorite news outlet, for it "falls into the abyss … and lacks objectivity," adding that they'd like to see the network "die in her anger." I'm surprised Fox News hasn't made promotional commercials based on the laudable distinction of being the terrorist organization's most-hated network.
In a series of letters released today, an Al Qaeda author revealed himself to be an amateur media critic, saying that MSNBC was "neutral" before some controversial firings:
I used to think that MSNBC channel may be good and neutral a bit, but is has lately fired two of the most famous journalists – Keith Olbermann and Octavia Nasser the Lebanese.
The author reserves harsher words for CNN:
As for the neutrality of CNN in English, it seems to be in cooperation with the [American] government more than the others (except Fox News of course).
They like CBS to some degree, noting that "it is like the other channels," but it has 60 Minutes, which they praise for its "good reputation for its long broadcasting time."
"ABC," he says, "is all right." He says it could be one of the best channels, as far as broadcasting Al Qaeda issues is concerned, praising Brian Ross in particular for his specialization in terrorism issues.
"In conclusion," he laments, "we can say that there is no single channel that we could rely on for our messages."
If you want to read the full letter, ladies and gentlemen, I present to you: Al Qaeda, media critic.
(H/T BusinessInsider)
Editor's note: This post has been edited since its original posting – Jon Nicosia
Have a tip we should know? tips@mediaite.com