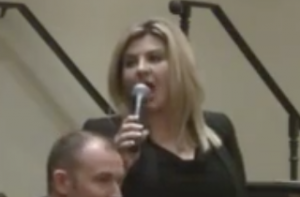 Back in 2014, during the Bundy Ranch standoff that is still getting people in trouble, Nevada's GOP state representative Michele Fiore announced to Chris Hayes that the resistance would "not allow governance by gunpoint." That was an interesting stance from a woman whose campaign website shows her holding a rifle and whose Christmas card last year went viral because everyone in it was holding a gun.
Governance by violence is not a huge stretch for Fiore, who once said that castrating pimps was a good way to end sex trafficking. In fact, she doesn't seem adverse to violence in any form. She's campaigning for a Congressional seat now and her opponent, Annette Teijeiro, used a local debate as an opportunity to call out Fiore for her comments about "flying to Paris" and shooting terrorists in the head herself. (Does that count as governance by gunpoint?)
Fiore stood up, asking her opponent, "You want to have a fight with me?" She told Teijeiro to put her microphone down and seemed like she was ready to brawl.
Teijeiro didn't seem too bothered then and she doesn't seem bothered now, either, since she posted a video of the incident to her Facebook page. One of the top comments reads, "Go Michelle!" which is not how Fiore spells her name.
Another comment includes a video called "Michele Fiore berates KDWN callers," which you can check out below.
The Las Vegas Sun gave us this final tidbit from the debate, which is not seen in the video:
"This chick can't run on her own merits, so the only thing she does is attack all of us," Fiore said.

Teijiero shot back: "I'm not a chick, I'm actually a medical doctor. I'm an anaesthesiologist."
h/t C&L
[image via screengrab]
For more from Lindsey, follow her on Twitter.
Have a tip we should know? tips@mediaite.com