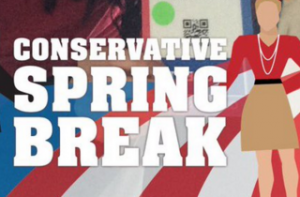 Snapchat is arguably the best app on the market for Millennial users. Don't believe me? Ask Miranda Kerr, since she's dating its 25-year-old founder, Evan Spiegel. Prior to that, there were rumors he was linked to Taylor Swift. Basically, what I'm saying is never get down on someone for using Snapchat because the concept is original and the features are fun. Spiegel wouldn't be where he is now if that wasn't the case.
Well. I lied a little. You can get down on someone for using Snapchat, but only if they're being extremely corny. I've posted my share of cheesy snaps, sure, but I only have about 100 friends added to the app for that very reason. Twitter, Facebook, and Instagram are meant for wide broadcasts of bad behavior or lame opinions. Some people, however, want as many viewers as possible to see their poor choices. Those people just so happen to be organizations affiliated with CPAC. Taking a cue from the moderate success of Marco Rubio and Ted Cruz in the arena of Snapchat geofilters, all kinds of organizations ponied up the cash to have location-specific doodles overlaid on the convention attendees' selfies.
Some of the geofilters were okay. Some were downright dumb. In the spirit of ranking the media as only Mediaite can, I'm here to call them out.
Let's start with a cringeworthy one:
The College Republicans paid for this one, which is just a tent that is full of false advertising. After all, we all know who really hosted the best party of CPAC this year.
Are you using our CRNC @Snapchat filter at CPAC? #CRNCatCPAC pic.twitter.com/71G19euOJQ

— College Republicans (@CRNC) March 3, 2016
Another stinker comes courtesy of Ted Cruz, who is fresh off a scandal related to his face. Truth be told, the most recent one isn't even Cruz's worst face-related scandal, so the decision to put a handsome little cartoon of himself on the filter is a head-scratcher.
If you're at #CPAC2016 and on @Snapchat, look for our filter now! pic.twitter.com/q3dkTacrpL

— Ted Cruz (@tedcruz) March 5, 2016
Bonus: This didn't go over well.
@tedcruz @Snapchat That looks nothing like you

— Jeremy Ross (@JeremyRoss15) March 5, 2016
These next two win an award for lack of creativity:
#snapchat filters that are #DonaldTrump specific at @CPAC event. #uspoli #CPAC2016 pic.twitter.com/u3d9UYdZfT

— Aarti Pole (@aartipole) March 5, 2016
What is, "Do you know Trump?" What does that reference? Why does it say "Trump questions" at the bottom? Those are just two words strung together! The second one with the graduation cap is okay, if you aren't aware that Cruz was already awarding "Certificates of Deception" from good ol' Trump U the other day and Rubio used a geofilter that was an anti-Trump hat a week ago. I hate to be a downer, but we could do better.
Then again, maybe we can't, because look at this:
Easily the best snapchat filter I've ever seen! We're @CPAC bound! pic.twitter.com/aS1Y3lRWkE

— Liana (@lianaimparato) March 2, 2016
"Conservative spring break" is such a bummer thing to say! I guess it's true, though, since we already know how much the attendees of the GOP debates love to drink. Can CPAC be that much different?
Another thing about these geofilters that is no bueno is how faulty they are. A former Mediaite writer, Tina Nguyen, couldn't even get any of them to work from where she was sitting:
I took a photo of this random dude's head to see if #cpac splurged for a snapchat filter pic.twitter.com/kTaiKNHo6u

— Tina Nguyen (@tina_nguyen) March 5, 2016
Now, here are some that are decent. It should go without saying that whenever a brand or organization tries to get in with the Millennial cool crowd using Sponsored® and Branded™ ContentⒸ, it will come off looking a little desperate, but that's fine. We're used to it. Sometimes, it's endearing. The following geofilters are a little like that.
Vocativ's Erin Ryan and political journalist Eli Yokley shared these:
These CPAC custom snapchat filters sure are fun pic.twitter.com/AKbbdkshnk

— Erin Gloria Ryan (@morninggloria) March 4, 2016
A couple sponsored @snapchat filters at #CPAC tonight (Along with a "conservative spring break" filter!) pic.twitter.com/rIbiD4Xrqr

— Eli Yokley (@eyokley) March 3, 2016
The 1986 one is by far the best of all the sponsored filters because it borrows the theme of Swift's — remember, that blond girl you may have heard of who maybe, possibly dated the founder of Snapchat? Keep up, now — wildly popular album, 1989. All of the promotional material and merchandise was branded with old-school Polaroids and basic Sharpie-esque fonts.
The Swifty connection between tax codes in 1986 and 1989 is a little shoddy, but I still commend them for sticking to a theme.
I want to focus on this one in particular, for a moment, which was shared by Cafe's Matt Binder:
Ben Carson supporters are here at CPAC giving out these pic.twitter.com/GBQG8mMSOi

— Matt Binder (@MattBinder) March 4, 2016
The intentions here are good. Like I said, missteps can be endearing. The issue is, though, that "'Murica" is often used in a mocking way to describe blindly nationalistic conservatives who, at least by the joke's standards, speak like complete rubes. It is in no way meant as a compliment most of the time and for reasons I can't quite pinpoint, I don't believe that The Washington Examiner is self-aware enough to be playing it as a self-referential joke or possibly even reclaiming or reappropriating the phrase like some people of color have done with derogatory words.
CPAC ends today and sadly, within 24 hours, all of the filers will have faded from attendees' snap stories, as they are meant to do. Nothing old can stay, as they say.
[image via screengrab]
For more from Lindsey, follow her on Twitter.
This is an opinion piece. The views expressed in this article are those of just the author.