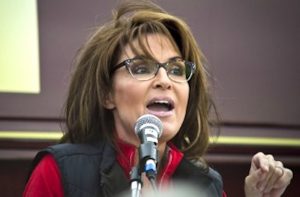 Sarah Palin may be up for a Cabinet position, but whatever is happening is not keeping her from criticizing the Carrier deal that President-elect Donald Trump announced this week.
Team Trump has touted the deal, which is set to keep Carrier from sending hundreds of jobs to Mexico, but the deal is getting a lot of criticism. In particular, the Wall Street Journal editorial board wrote, "His Carrier shakedown is a short-term political victory that will hurt workers and the economy if it becomes the norm for the next four years."
And while Palin says in her piece for the site Young Conservatives that she's "ecstatic for Carrier employees," she had this to say about what the deal means:
When government steps in arbitrarily with individual subsidies, favoring one business over others, it sets inconsistent, unfair, illogical precedent. Meanwhile, the invisible hand that best orchestrates a free people's free enterprise system gets amputated. Then, special interests creep in and manipulate markets. Republicans oppose this, remember? Instead, we support competition on a level playing field, remember? Because we know special interest crony capitalism is one big fail.

Politicians picking and choosing recipients of corporate welfare is railed against by fiscal conservatives, for it's a hallmark of corruption. And socialism. The Obama Administration dealt in it in spades. Recall Solyndra, Stimulus boondoggles, and all their other taxpayer-subsidized anchors on our economy. A $20 trillion debt-ridden country can't afford this sinfully stupid practice, so vigilantly guard against its continuance, or we're doomed.
"However well meaning," she writes, "burdensome federal government imposition is never the solution."
Palin expresses hope that "the Trump team knows all this," but affirms that "political intrusion using a stick or carrot to bribe or force one individual business to do what politicians insist, versus establishing policy incentivizing our ENTIRE ethical economic engine to roar back to life, isn't the answer."
[image via Shutterstock]
— —
Follow Josh Feldman on Twitter: @feldmaniac
Have a tip we should know? tips@mediaite.com
Josh Feldman - Senior Editor