President-Elect Trump Risks Diplomatic Dispute With China After Call to Taiwan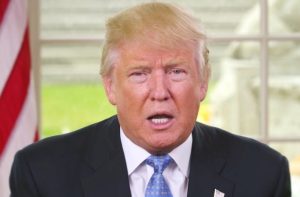 The Financial Times is reporting that President-elect Donald Trump spoke with Taiwanese President Tsai Ying-wen on the phone today. They state that three different people have confirmed the phone call.
This represents a complete reversal of United States policy as it stands with Taiwan and China. There have been no diplomatic relations made with the island since 1979 after Jimmy Carter recognized Beijing as the only government of China. This is part of the 'One China' policy in which Taiwan's sovereignty isn't recognized by the U.S.
Spokesperson Hope Hicks confirmed that Trump did speak to the Tsai Ying-wen.
Hope Hicks has confirmed to BI that Donald Trump spoke with the president of Taiwan, Tsai Ying-wen, on Friday.

— Natasha Bertrand (@NatashaBertrand) December 2, 2016
However, it is apparent that this will not be taken lightly by China, even if Trump took the call inadvertently.
"The Chinese leadership will see this as a highly provocative action, of historic proportions," said Evan Medeiros, former Asia director at the White House national security council.

"Regardless if it was deliberate or accidental, this phone call will fundamentally change China's perceptions of Trump's strategic intentions for the negative. With this kind of move, Trump is setting a foundation of enduring mistrust and strategic competition for US-China relations."
Needless to say, with the gravity of the situation when it comes to America's foreign policy and relations with China, there was quite a bit of reaction to this news.
Honestly, this is just *insane* https://t.co/8YbV81gGmC

— Christopher Hayes (@chrislhayes) December 2, 2016
Trump has phone call w Taiwan President, 1st by US Pres or Pres-elect since 1979.

Beijing will be absolutely incensed.

— ian bremmer (@ianbremmer) December 2, 2016
General Mattis reacts to news of Trump call with Taiwan. pic.twitter.com/q8K00LF1i0

— pourmecoffee (@pourmecoffee) December 2, 2016
Do other governments take Trump literally, seriously, or as someone who has no idea what he's doing? https://t.co/ZNmDDDiGPv

— Nate Cohn (@Nate_Cohn) December 2, 2016
Oh dear.https://t.co/keZsoINmfQ

— Rachel Maddow MSNBC (@maddow) December 2, 2016
I mean, if you know, like, 5 things about China, one of them is: THEY'RE KIND OF TOUCHY ABOUT TAIWAN

— Christopher Hayes (@chrislhayes) December 2, 2016
1. Trump spoke with Taiwan's president, something a US prez hasn't done in decades, the FT reports. It will likely anger China.

— Judd Legum (@JuddLegum) December 2, 2016
Trump is dangerously out of touch, making moves that defy common sense and risk catapulting us into worldwide chaos. https://t.co/lBg94FAPiN

— George Takei (@GeorgeTakei) December 2, 2016
UPDATE –– 7:45 pm ET: Trump tweeted this hours after the call:
The President of Taiwan CALLED ME today to wish me congratulations on winning the Presidency. Thank you!

— Donald J. Trump (@realDonaldTrump) December 3, 2016
[image via screengrab]
–
Follow Justin Baragona on Twitter: @justinbaragona
Have a tip we should know? tips@mediaite.com