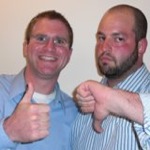 Who: Jay Rosen, Stephen Shepard, C.W. Anderson
What: Gelf Magazine Media Circus "What's Next For J-School?"
Where: JLA Studios Art Gallery
When: July 9, 2009
Thumbs: Down
Only die-hard media addicts would cram into such a space for a media discussion. For so long.
Panel Nerds estimate that there were only about 20 people in the audience, but was hot enough that the lone fan quickly needed reinforcement. The organizers opened windows, but this let in noise from nearby trains that made it hard to hear the speakers. Which was too bad, because we could tell from their facial expressions that they had a lot to say.
Despite training and teaching the next generation of journalists at different schools – Anderson at Columbia, Rosen at NYU, Shepard at CUNY – the three panelists agreed that proficiency in multimedia skills are the key to future success in journalism and media. They thought that this is a great time to be a journalism student since young, passionate writers can help escort journalism into a more digital age.
What they struggled with, though, was conceiving and developing a new industry-wide business model. They indicated that this – and not the often-spoken of threat of bloggers – is the real concern plaguing journalism right now (said Rosen: "If you're looking for a new business model for the news, the first step is to admit there may be no answer"). Both Shepard and Rosen said that their programs are making strides to reshape how newspapers can make money going forward. In this sense, the professors, and their respective schools, also serve as think tanks full of skilled journalism veterans hoping to revive the media's future.
The panelists disagreed, though, as to whether all college students would benefit from a brief, yet broad, journalism introduction. Anderson was the most revolutionary, suggesting that all first-year undergraduate students at Columbia should be required to take a Reading and Writing course. He says that the lessons of storytelling and interviewing extend beyond the range of aspiring journalists. While the others weren't as eager to revamp journalism classes, Rosen did say it was a good idea for young writers to have a single area of interest that he or she could cover well.
An interesting nugget: During his comments, Jay Rosen mentioned he'd told Scott Rosenberg at Salon back in 1996 to bring in their readers to the discussion. Rosenberg didn't. Now they have OpenSalon but Rosen said it took them way too long to come around. He said he was particularly surprised by their ambivalance since the Salon creators were the "hippies" who left the San Francisco Chronicle to start the site.
What They Said
"It actually turned out to be a very good time to start a school of journalism."
– Stephen Shepard initiated the CUNY program in 2006. The Number of applications and the size of each class, he says, have risen despite the recent economic downturn.
"I approach this a bit differently."
– Jay Rosen's apparent catch-phrase. He used throughout the night whenever he spoke second
"If I'm going to get mixed up with anyone else I'd rather it be him."
– C.W. Anderson chose to abbreviate his name because other Chris Andersons already dominate the media world. He responded to someone pointing out that there was a former professional wrestler who went by the name C.W. Anderson
"I think the future is bright because there are more ways to do storytelling now."
– Stephen Shepard declaring his optimism
"If it's going to be in the public, it has to be in the vernacular."
– Jay Rosen alluding to the fact that journalists used to write in a strange, high-falutin fashion
What We Thought
We thought that Rosen could have done a better job organizing his thoughts. Rather than speak about his program – he markedly didn't mention NYU at all – he chose to share a series of reflections and personal accounts that proved the ignorance of the past decade's traditional journalists. These stories were tied together under the maxim "Small pieces loosely joined." We would have preferred Rosen instead to more succinctly identify some of the perceived problems and to offer some solutions.
At 2.5 hours, this panel went on too long. Granted, there were a couple of intermissions, but there wasn't enough substance, or necessity, to take up that much time. People began to exit during the Q&A portion — never a good sign for a panel.
PANEL RULES!
Some audience behavior seems to repeat itself panel after panel. We'll be updating a running list of "PANEL RULES!" that will help ensure that you are not the dweeb of the Panel Nerds.
Panel Nerds don't like…. Wanna-Be Panelists
Don't try to upstage the panelists – No rants. We didn't come to hear you. And ask your questions without trying to show off. We don't want to know about your experience taking graduate courses. We especially don't want to know why you dropped out. There may have been a question at the end of your speech, but we, and everyone else, had tuned you out a long time ago.
Etan Bednarsh is a writer and internet marketer in New York City . His writing focuses on the intersection of politics and pop culture. He is currently studying sketch and improvisational comedy at the Upright Citizen's Brigade. Danny Groner is a freelance online writer and video editor in New York City. He has worked at several prominent media companies, dabbling in radio, television, and print and online journalism.
Want the Panel Nerds to cover your panel? Email them here:  PanelNerds@mediaite.com
Have a tip we should know? tips@mediaite.com