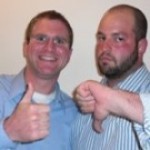 Who: Emma Thompson, Maggie Gyllenhaal, and Susanna White, interviewed by Donna Freydkin
What: "Meet the Filmmakers" for "Nanny McPhee Returns"
Where: Apple SoHo
When: August 16, 2010
Thumbs: At our sides
The three women being interviewed – Emma Thompson, Maggie Gyllenhaal, and Susanna White – suggested that "Nanny McPhee Returns" (the sequel to the 2005 children's film) offers more than just a playful depiction of a family with some CGI thrown in. They argued that the film offers insights into the day-to-day frustrations of an overworked mother trying to keep it all together. Gyllenhaal, a new mom who plays the protagonist, Mrs. Green, said that when she got the chance to play a struggling mom, she leapt at the opportunity. White, the director, told a similar story about her first exposure to the script and the project. Although this message came across loud and clear, the panelists focused a bit too much on describing the difficulties of the working woman, and could have said more about the film – and moviemaking – itself.
Gyllenhaal argued that this film couldn't have been made five years ago. Its honesty about the hardships of motherhood, she said, isn't something people were ready yet to see on the big screen. However, Thompson, who also wrote the screenplay, contended that "McPhee" has a distinct story to tell. The trio shared their observations about parenting and were amused to find out that the others had also initially balked at the idea of hiring a nanny for assistance at home. They bonded so well on the set that when Gyllenhaal had a momentary breakdown when dealing with the stresses of being a new mother, Thompson was there to console her.
Gyllenhaal credited Thompson with making a comfortable environment for everyone while shooting, learning the names of all members of the support staff. The women were so close that Gyllenhaal said she modeled her British accent off of White's. White, who was a rookie filmmaker after working primarily in television, said that her job was made easier by the fact that the movie mixes CGI "tricks" with natural feats to create a world where anything is possible, including, as was screened, flying pigs and a magical solution to child mischief.
Sadly, these highlights were not enough to carry the panel. They barely scratched the surface about other subjects. Interviewer Donna Freydkin would have been wise to broaden the scope of the discussion, even if the panel did keep coming back to the subject of motherhood. This crowd was full of moms who could relate, but there were also child fans and Apple techies among us who left feeling unsatisfied. It's a shame, too, since there was so much talent to work with.
What They Said
"I thought I could do a Clint Eastwood. I thought I could do a James Bond. how many movies do you know about where a woman could come back and do the same role?"
– Emma Thompson says that, with this sequel, she's atop a franchise

"It's always a challenge to make a sequel because you want it to be the same, but different."
– Susanna White drew from the old and the new while putting together "Nanny McPhee Returns"

"It will work as a movie if it's done in the most excellent way."
– Maggie Gyllenhaal hopes to make a film version of Norman Rush's Mating

"I want to leave the cinema feeling different. I don't want to leave feeling the same way."
– Emma Thompson thinks movies should have an impact on you
What We Thought
Freydkin, as mentioned above, could have steered a better ship. In the name of not cutting off the famous star beside her, Freydkin allowed Thompson to talk tangentially and at great length. With just 45 minutes at your disposal, a moderator in such a situation must interject when necessary.
We were delighted to discover that Thompson is a writer and Gyllenhaal is a producer for other films. Gyllenhaal revealed that she was the most surprised to find her other talents. We believe that actors who understand other aspects of their industry wind up becoming better at their crafts because they get the fuller picture.
PANEL RULES!
Some audience behavior seems to repeat itself panel after panel. We'll be updating a running list of "PANEL RULES!" that will help ensure that you are not the dweeb of the Panel Nerds.
Panel Nerds don't like…Three-Prongers
Take advantage of the chance to speak to famous people by asking a succinct question. If you want to hear from all of the panelists, ask an open-ended question that each one may choose to address. However, when you ask three separate questions, one to each of them, it leads to a long, drawn-out saga that drastically cuts down on time for others to raise their questions. Moreover, when one of your questions has already been addressed, it makes it clear to everyone that not only did you wish to monopolize the time, you hadn't been listening up to that point. We don't have much patience for those who prefer to be self-important interviewers instead of courteous spectators.
Have a tip we should know? tips@mediaite.com