Pastor Says That ISIS Could Use Pokemon Go to Go After Christians With 'Cyber-Demons'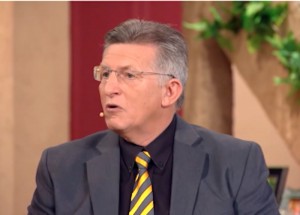 One right wing pastor isn't as big a fan of Pokemon Go as the rest of us. Rick Wiles recently called the police after seeing a man taking pictures of his office building only to find out later that the man was actually playing Pokemon Go according to Right Wing Watch. To Wiles, this man playing the popular video game was a sign that something alarming was taking place.
"These Pokémon creatures are like virtual, cyber-demons. What this man, Friday, was trying to find was the Pokémon demon that had been placed inside the 'Trunews' office," Wiles said, worried about the effects that Pokemon Go had on his show Trunews, which you can hear above.
While Wiles expressed concern about the Pokemon themselves, he is more worried about the technology that the app wields. He fears that the technology will fall into the hands of the wrong people who seek to do harm to Christians.
"What if this technology is transferred to Islamic jihadists and Islamic jihadists have an app that shows them where Christians are located geographically?" asked Wiles after saying that many of the Pokestops are churches and other places of worship.
"The enemy, Satan, is targeting churches with virtual, digital, cyber-demons. I believe this thing is a magnet for demonic powers," Wiles continued on his show.
The pastor had one final warning for his listeners that they should refrain from playing Pokemon Go:
"They're spawning demons inside your church. They're targeting your church with demonic activity. This technology will be used by the enemies of the cross to target, locate and execute Christians," he concluded.
—
[image via YouTube screengrab]
Have a tip we should know? tips@mediaite.com