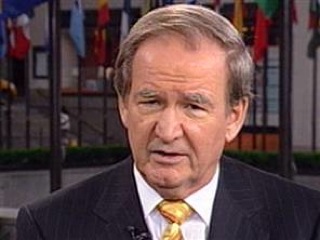 In an editorial published Tuesday, former MSNBC contributor Pat Buchanan warns of the possibility of racially charged violence if George Zimmerman is acquitted in the murder trial of Trayvon Martin. Buchanan links the possibility of Zimmerman's acquittal to the 1992 trail of several L.A. police officers who were cleared of charges in the beating of Rodney King that provoked a week of wide-spread violence.

RELATED: Dershowitz: No Jury Would Convict Zimmerman Of Murder Unless Afraid 'New Black Panthers Might Kill Them'
In his May 22 editorial, "What If Zimmerman Walks Free," Buchanan cites a number of commentators and leaders who have exacerbated the racial tensions surrounding the Martin murder trail.
"Blacks are under attack," railed Jesse Jackson. "Killing us is big business."
Rep. Maxine Waters' charge of "hate crime" was echoed by radio talker Joe Madison. Rep. Hank Johnson said Trayvon had been "executed." The Grio compared his killing to the lynching of Emmett Till in Mississippi in 1955.
Rep. Jan Schakowsky called Trayvon's killing a "modern-day lynching."
Buchanan blamed President Barack Obama who he says uttered "not a word to cool the lynch-mob like atmosphere" created by who he describes as his political allies.
Buchanan goes on to outline how as details of the case have emerged, the case for Zimmerman's acquittal looks stronger. However, he claims that the temperature has been raised so high in this case that if Zimmerman is cleared of wrongdoing, the consequences could be violent.
Yet the public mind has been so poisoned that an acquittal of George Zimmerman could ignite a reaction similar to that, 20 years ago, when the Simi Valley jury acquitted the LAPD cops in the Rodney King beating case.

Should that happen, those who fanned the flames, and those who did nothing to douse them, should themselves go on trial in the public arena.
Have a tip we should know? tips@mediaite.com