'Pathetic': Chuck Todd Blasts GOP After Report Says Party Will Make 2018 a Media Referendum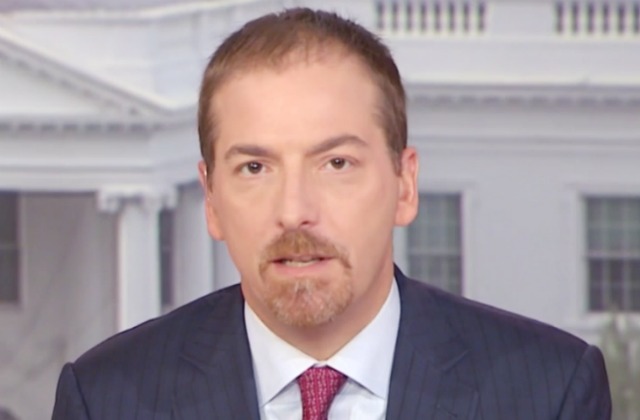 Could Greg Gianforte's victory in Montana's special Congressional election after allegedly body slamming a reporter serve as foreshadowing for the GOP's strategy in 2018? A new report suggests that, while Republican candidates may not body slam members of the press, they do plan to make the 2018 midterms into something of a referendum on the fourth estate.
According to McClatchy, Republican strategists are looking to position their candidates directly against the press as part of a plan to use the media's unpopularity to help them win elections.
Now, one of the most visible journalists in America is making it know that he's not happy about it. In a Monday morning tweet, NBC's Chuck Todd slammed the strategy as "pathetic and self defeating."
Pathetic and self defeating. I'm sorry for the smart GOP strategists that get talked into this garbage https://t.co/8rjXsVhqpy

— Chuck Todd (@chucktodd) June 5, 2017
David Woodard — a South Carolina-based Republican consultant who has worked with Senator Lindsey Graham, among others, disagreed, telling McClatchy that he believes the days of "Never pick a fight with someone who buys ink by the barrel" are over.
"If you pick a fight with them, I think it kind of helps you, and I don't think many people care," Woodard said.
"You look at how the press is perceived in any kind of opinion survey at the moment, and the press is right down there with Donald Trump," said Tobe Berkovitz — a Boston-based consultant for Congressional and Gubernatorial campaigns — according to McClatchy. He added, "The press is held with disgust and contempt. Battling the press isn't a bad strategy."
Gianforte, meanwhile, reportedly will be sworn in this week.
[image via screengrab]
——
Follow Joe DePaolo (@joe_depaolo) on Twitter
Have a tip we should know? tips@mediaite.com
Joe DePaolo - Senior Editor