Rep. Paul Ryan Becomes Latest Target Of Anti-SOPA Activists, Democratic Opponent Gets Fundraising Boost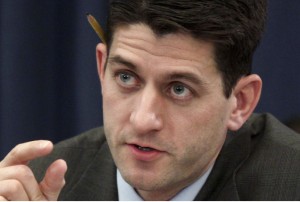 One of the biggest legislative battles to be fought in 2012 will undoubtedly be the controversial Stop Online Piracy Act. Opponents claim the bill goes too far in its aims to combat online piracy and amounts to internet censorship. Protests and boycotts have emerged from the website Reddit, and after a huge boycott of GoDaddy after the domain hosting service announced its support of the legislation, activists are now targeting politicians who support the legislation, including an entire operation focused on Congressman Paul Ryan.
According to ABC News, Reddit users debated which politicians should be targeted in the 2012 election over their support for the legislation. One proposal was South Carolina Senator Lindsey Graham (who is not up for reelection next year), another was Tennessee Senator Bob Corker. But Ryan has emerged as one of the top targets of anti-SOPA activists, even after issuing a statement denying his support of the bill.
RELATED: I Can't Haz SOPA? GoDaddy.com Withdraws Support Of Online Piracy Bill After Threats Of Boycott
Ryan had not made any previous public statements supporting or opposing the legislation, but after he was linked to supporters of the bill, his spokesperson explained that Ryan had not made up his mind on the bill, but as of yet, he does not support it.
"He remains committed advancing policies which protect free speech and foster innovation online and will continue to follow the House Judiciary Committee's deliberations on this issue carefully."
However, this has not stopped Reddit users from launching Operation Pull Ryan. The group's website acknowledges that while Ryan has not committed to supporting the bill yet, "his efforts to remain neutral about the caustic piece of legislation are extremely discouraging."
Ryan is also criticized for his support of the National Defense Authorization Act that was passed overwhelmingly by both houses of Congress several weeks ago. And in an effort to mobilize a strong opposition to Ryan, the movement has now put itself firmly behind Ryan's opponent, Rob Zerban.
Zerban participated in an AMA session on Reddit where he took questions from users, and made it clear that he opposes the SOPA bill. This is Zerban's first political campaign, but since participating in the AMA session, he claims to have raised over $15,000 and posted again on the website to thank users for helping him surpass his own fundraising goal.
RELATED: Path To Prosperity: Paul Ryan Is Having A Media Moment Over Bold Budget Proposal
Ryan has been marked as one of the more vulnerable members of Congress in the 2012 election cycle, but Zerban still has a long way to go to achieve the kind of money and face recognition required to win a high-profile congressional race.
Have a tip we should know? [email protected]
Josh Feldman - Senior Editor