Paul Ryan Rips Obama for 'Dangerous Overreach' on Planned Gun Control Actions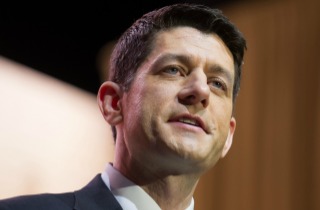 President Obama's announcement that he intends to take executive action on gun policy finds House Speaker Paul Ryan (R-WI) among those who disapprove of the president's efforts to circumvent political resistance from Congress.
"We all are pained by the recent atrocities in our country, but no change the president is reportedly considering would have prevented them," Ryan said. "We have seen consistently that an underlying cause of these attacks has been mental illness, and we should look at ways to address this problem."
Ryan's statement went on to say that Obama has held an agenda against guns since his 2008 candidacy, that the better solution would be stronger enforcement of current laws, and that the president's actions will most likely interfere with the rights of lawful gun owners. Ryan noted that the country has an interest in seeing its leaders take hard stances against terrorism in light of recent events, but opined that Obama's plans will only lead to more division and failed action.
While we don't yet know the details of the plan, the president is at minimum subverting the legislative branch, and potentially overturning its will. His proposals to restrict gun rights were debated by the United States Senate, and they were rejected. No president should be able to reverse legislative failure by executive fiat, not even incrementally. The American people deserve a president who will respect their constitutional rights – all of them. This is a dangerous level of executive overreach, and the country will not stand for it."
President Obama will be holding a town hall later this week, where he is expected to elaborate on his plans and take questions on how those plans will curb gun violence.
[h/t Washington Examiner]
[Image via screengrab]
— —
>> Follow Ken Meyer (@KenMeyer91) on Twitter
Have a tip we should know? tips@mediaite.com