Paula Broadwell Was Reportedly Approached About North Carolina Senate Run, Petraeus Rejected Idea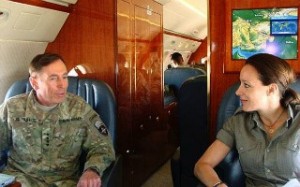 In Time magazine's lengthy piece about the David Petraeus scandal, there's an interesting little nugget about Paula Broadwell. She had reportedly been approached about a Senate run in North Carolina — an idea Petraeus is said to have quickly rejected.
The article, aptly entitled "Spyfall," includes a look into Broadwell's background. By the time Petraeus wound up at the CIA, it says, she had been working closely with him for years. Her biography of him came out in January of this year.
Somewhere along the line of those years of their close working relationship, Broadwell told Petraeus about "Republican moneymen" approaching her about a potential Senate run in North Carolina.
Nor was Broadwell without a larger plan. After running with Lance Armstrong in July, she volunteered her secret purpose to at least six new acquaintances at the Aspen conference. That evening, over drinks, she told a small group that she had been arguing with her mentor about the direction of her career. Republican moneymen, she said, had approached her about a Senate run in North Carolina. She was tempted.
She may have been tempted, but Petraeus dismissed the idea:
Petraeus, she said in an irritated tone, rejected the idea out of hand. What was her position, he asked, on abortion? Climate change? Gun control? Gay marriage? Tax cuts? Social Security vouchers? Her answers, he told her, would not fit either party, and she should not sell herself out.
If true, we'd hardly say that's surprising on Petraeus' part.
(H/T Business Insider)
Have a tip we should know? tips@mediaite.com