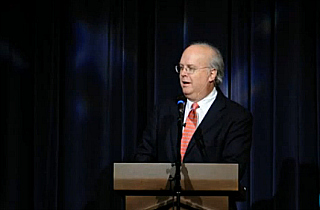 Continuing the post-election Republican streak of using buttocks-related phrases to describe the party's electoral defeat, GOP strategist and Fox News analyst Karl Rove said Wednesday night that Mitt Romney lost thanks in part to a "butt-ugly" GOP primary campaign that helped paint him in an "unfavorable light" for the actual presidential campaign season.
Rove made the case that Romney's campaign took severe damage at multiple points throughout the 2012 presidential campaign. The brutally long Republican primary campaign had "way too many debates," Rove said, adding that they tended to focus on social issues and less on the economy at hand.
"Mitt Romney had what I scientifically call a butt-ugly primary," Rove added.
Other critical moments, according to Rove, included the "good" Republican convention that didn't match up to the Democrats' great convention that was aided by President Bill Clinton's well-regarded speech; and the "October surprise" of Hurricane Sandy, which Rove said gave Obama a chance to look presidential and bipartisan while touring and dealing with the storm-ravaged New Jersey with the state's Republican Governor Chris Christie.
Rove's use of the phrase "butt-ugly" is one of a slew of recent scatological and/or gluteal phrases major Republicans have used while describing Romney's defeat. On Monday, Grover Norquist told CBS that Obama won by successfully painting Romney as a "poopy head." This morning, former Mississippi Gov. Haley Barbour said the GOP needs to undergo a "proctology exam."
Watch a brief clip of his speech below, via Erie Times-News:

[h/t TPM]
— —
>> Follow Andrew Kirell (@AndrewKirell) on Twitter
Have a tip we should know? tips@mediaite.com