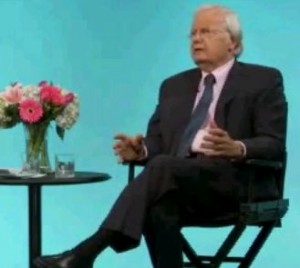 Bill Moyers has been making the regular media rounds to promote his return to PBS, and on Friday joined Arianna Huffington for a discussion on the media. But the subject quickly changed to the infamous billionaire George Soros, and Moyers ended up defending Soros from some of the attacks leveled at him by the American right wing. He called Soros a "victim" of attacked leveled against him by "Fox News assassins."
In the midst of a discussion on the media and contemporary society, Moyers cited Soros as an example of someone whom people should be listening more to.
I'll tell you somebody you could, you should go for, because he has given more thought to this than almost anyone I know: George Soros, believe it or not. George Soros, whatever you think about his wealth or his politics, George Soros was next to Vaclav Havel I think the most catalytic agent for helping to bring down the Communist government behind the Iron Curtain because he, he gave everybody who wanted one an equivalent of a Xerox machine, and so they could get the message out.

And he is deeply troubled by the Orwellian power of the right-wing in this country today. He talks about it. I was on his board for a several years, and I'm off now that I'm back on the air, but I was on his board, and he is deeply troubled. He is a great devotee of the open society, the society that does change because it listens to itself, and learns from its experience.

He's been the victim, of course, of Glenn Beck and the right-wing, the Fox News assassins. So he's thought a great deal about the Orwellian idea, and he said it has arrived in this country. It is here, part of the permanent, a permanent characteristic of American democracy which is therefore self-suicidally bent because of the power and force of propaganda. He'd be somebody I know would write you a really good piece for that.
NewsBusters' Noel Sheppard reacted to the video by asking readers "Need to know anything else about the politics of Bill Moyers?"
Watch video of the discussion below
h/t The Blaze
Have a tip we should know? tips@mediaite.com
Josh Feldman - Senior Editor