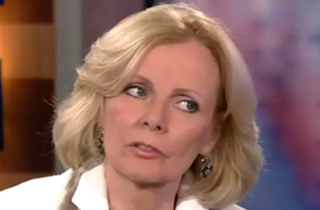 Some in the media, mostly conservatives, have knocked President Obama for appointing Ron Klain, a political operative with no medical or health background, as the White House point person to combat the spread of Ebola ("Ebola Czar").
Wall Street Journal columnist Peggy Noonan's gripe isn't with the lack of medical experience. It's that he has no gravitas.
"A problem with the Klain appointment is that he does not have natural command presence and public authority," says a Sunday blog post penned by Noonan, who is reportedly a friend of Klain (some friend!). "The administration blew its initial handling of the crisis. What is needed is a … sort of figure who could stand there at the morning briefing and tell you what's happening and you know he's telling it to you true."
Whatever helps you sleep at night, I guess.
For Noonan, someone like former New York mayor Michael Bloomberg would suffice. From Noonan's post:
A straight-shooting retired general or admiral, or a civilian—an independent CEO with a public reputation, someone known for getting things done, someone with his own lines of communication to the media and political class. A Mike Bloomberg—someone who doesn't need you, who can walk away from the job if he doesn't get the tools and is feared inside because he can walk.

Someone who is not only bigger than Ron Klain but bigger than Barack Obama.
Bloomberg is, of course, mostly known among Republicans for trying to ban big soda drinks and salty food from his city. There's a small chance he wouldn't have been a very popular pick for the GOP either.
[Photo via NBC/screen grab]
— —
>> Follow Eddie Scarry (@eScarry) on Twitter
Have a tip we should know? tips@mediaite.com