Peter Schnall: Nat Geo's 9/11 Retrospective With George Bush Took 'Several Months Of Negotiations'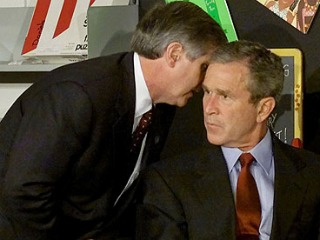 Journalist Peter Schnall offered a revealing interview with Turnstyle about the effort that went into convincing former President George W. Bush to discuss his memories of 9/11 with National Geographic for the channel's upcoming documentary special. As it turns out, Bush's people were quite open to the interview and, after what turned out to be months of negotiations, agreed that he would sit down with Schnall for an incredible four hours, without having interview questions presented to him in advance.
"He answered all the questions," Schnall shared. "We sat down for two hours each day. He had no notes, he never got up. It was a very interesting journey."
Schnall also discussed an interesting reflection made by the former President: How much wasn't known at the time and immediately following the attacks.
I wanted to really understand what it was like for him as a president, as a commander in chief, and also as a father and a husband. … He seemed to say in the very beginning, they didn't really know what was going on. In the very first few hours of September 11, there was great confusion–Were there more terrorist attacks? Were there more targets? Who was the enemy? The president said to us several times in the interview that he felt like he was living through the fog of war. I thought that was a very interesting and revealing thing for a former president to say.
Also interesting (and something I'd never heard before)? Bush's initial reaction to the crash of flight 93 that day:
Turnstyle: And does he talk in those moments about the decisions that he made? Is there a sense of regret about any of those decisions that he made in that "fog of war" atmosphere that he describes?

Schnall: Well again, we're only talking about the 11th, the 12th, through the 14th, and some of those early decisions, for example when he was on the plane, the FAA grounded all the commercial airlines, they brought everything down. The president then had to make a decision while flying through the skies of America, he gave the Air Force permission to shoot down any commercial plane that was still in the air that was not responding to that FAA grounding rule. And he told us that when they heard that flight 93 had crashed in the fields of Pennsylvania, they didn't know at first whether or not that plane had gone down because of his direct order. … He did not at any point say that he had regrets. He did say during the interview that he knew that he was making decisions that would be controversial – and they're still controversial to this day. I mean look, we're still going through the conflicts with Iraq and Afghanistan, I think he knew and still knows that we're still living through those events right now.
Read the full interview at Turnstyle. Bush's interview airs on August 28th.
h/t Turnstyle News
Have a tip we should know? tips@mediaite.com