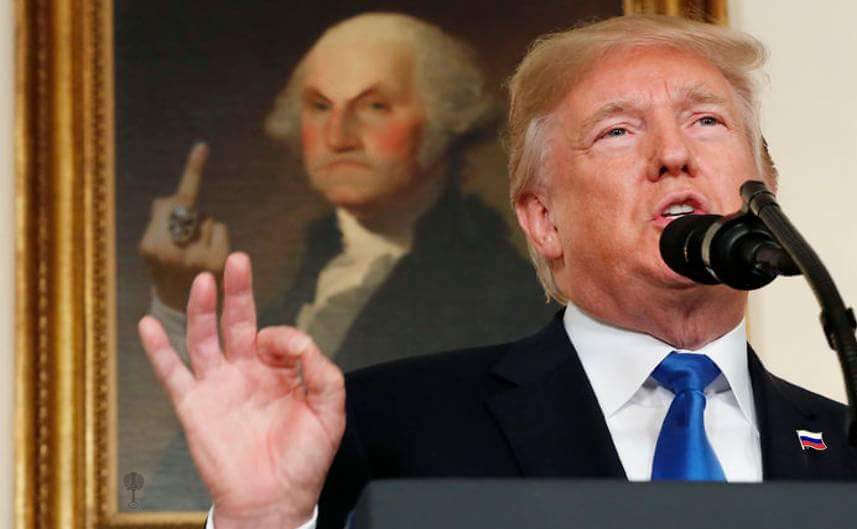 The work of a clever photoshoper has gone viral on Twitter as White House paintings featuring some of America's most influential leaders have been altered to express dismay over Donald Trump's presidency.
Whoever did this is a damn genius. pic.twitter.com/htTVbET6c2

— Enzo A Moray (@JaimsVanDerBeek) October 20, 2017
The series of changed photos features George Washington flipping off Trump, Andrew Jackson face-palming, Thomas Jefferson shaking his fist, and Alexander Hamilton shooting himself with a finger gun.
One response to the viral photo series was a screenshot of a bald eagle attacking Trump — the bird that serves as the US National Emblem:
Our nation's emblem isn't too fond of him either… pic.twitter.com/HNpnwh5wOh

— Don Holley (@donholley0) October 23, 2017
Interestingly, in The Independent's coverage of this viral tweet — a publication based in the UK, which is also known as the country that lost the Revolutionary War — none of the Founding Fathers are named besides Washington. Maybe they didn't know the names and faces of Hamilton and Jefferson, or maybe they're just still bitter that they lost the war.
The answer isn't clear, but it's certainly fun to speculate that maybe — just maybe — the Brits are still a little bit mad.
It also isn't clear where the photos first originated from, but three of the Founding Fathers and Jackson rolling over in their painted graves due to this reality TV star presidency certainly entertained the internet for a couple days.
[featured image via screengrab]
Follow Caleb Ecarma on Twitter. 
Have a tip we should know? tips@mediaite.com