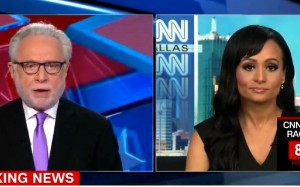 Trump national spokesperson Katrina Pierson accused CNN and the other major news networks of giving more favorable coverage to Black Lives Matter than to the Tea Party.
Specifically, the networks were willing to consider the incendiary rhetoric of individual members of BLM as separate and apart from the movement at large — an accommodation that was not given to the Tea Party, she claimed.
At issue were remarks posted online by members of a BLM protest group in Minneapolis, near where Philando Castile was killed by police last week. The Facebook page for the group put out a release Wednesday calling for the "dismantling of the police department," presumably meaning the local department. "Even today they are calling to abolish the police altogether, Wolf. And I gotta tell you, when the Tea Party called to abolish the IRS, they were called anarchists," Pierson, a former Tea Party activist, said.
"There may be some voices who say that, but you can't lump in all the people who support the Black Lives Matter movement and say they want to destroy the police," Wolf Blitzer said. "There are some isolated voices who utter really ugly things –"
"No!" Pierson interjected. "No. We don't get to do that. We don't get to do that. We don't get to do that, Wolf. I've been on CNN for quite some time now. Every time one person, not even affiliated with the Tea Party, did something, the entire organization was blanketed with it on every network."
You can view the exchange above, courtesy of CNN.
[image via screengrab]
Have a tip we should know? tips@mediaite.com