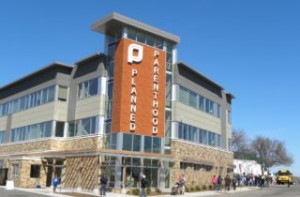 Part of Planned Parenthood's newest public relations push against a series of embarrassing undercover videos is writing to media outlets warning them not to share the videos at all.
Monday, a South Dakota television station revealed that Planned Parenthood's Minnesota, North Dakota and South Dakota branch was contacting local stations, telling them in a memo not to air the video, warning that it could violate "patient privacy":
[The Center for Medical Progress] has used footage obtained through deceit and unlawful behavior, including possible violations of state recording laws, federal tax laws and falsified state identification… However, footage yet to come is expected to represent an extreme violation of patient privacy by including footage of post-abortion fetal tissue neither patients nor health care professionals authorized be filmed."

When your network decides whether to consider this story newsworthy, or whether to use any of this footage at all, we urge you to keep this in mind: The extremists who entered Planned Parenthood labs under false pretenses violated research protocol, and, worse, violated the privacy of patients involved. Those patients' privacy should not be further violated by having this footage shared by the media.
The footage the press release refers would appear to be the third undercover video released Tuesday, which claims to show a Planned Parenthood leader discussing prices for fetal organs while a technician picks at fetal organs in a pie dish.
After the video's release, Politico reported Tuesday that a PR firm hired by Planned Parenthood has been reaching out to national media sources also telling them not to report on the videos. They only quote one line from the press release, but it appears to be identical to language in the press release sent to local Midwest stations.
[Image via screengrab]
——
>>Follow Alex Griswold (@HashtagGriswold) on Twitter
Have a tip we should know? [email protected]