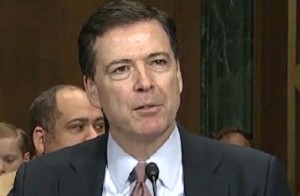 FBI Director James Comey delivered a speech a few days ago in honor of Holocaust Remembrance Week. As he talked about humans being "hijacked by evil," Comey said, "In their minds, the murderers and accomplices of Germany, and Poland, and Hungary, and so many, many other places didn't do something evil. They convinced themselves it was the right thing to do."
That reference to Poland, however, has not gone over very well in Poland, and officials there are demanding an apology.
Poland's prime minister, Ewa Kopacz, held a briefing and said, "To those who don't know the historical truth, I would like to say today, Poland was not an aggressor but a victim during the Second World War."
In addition, Polish president Bronislaw Komorowski said Comey's comments were borne of "ignorance [and] lack of historical knowledge," while Poland's foreign minister has demanded an apology from Comey.
Comey has not yet publicly commented, but State Department spokeswoman Marie Harf said yesterday Comey was not discounting "the brave efforts of countless Poles" during the Holocaust. The U.S. ambassador to Poland, Stephen Mull, was also summoned to the nation's capital to explain what Comey said, and he acknowledged what Comey said was "wrong, harmful, and offensive," and apologized.
There were, of course, death camps in Poland during the Holocaust, but the issue of the term "Polish death camps" has been a rather controversial one in Poland recently. Laurence Weinbaum wrote for The Washington Post today about this not-so-black-and-white matter:
Thanks to the efforts of Polish researchers, we now know that more Poles participated in the destruction and despoliation of their Jewish neighbors than was previously believed… Even as we bow our heads before the extraordinary heroism and sacrifice of the thousands of Poles who risked their lives to save Jews… we have to recognize that without the participation (not mere indifference or apathy) of local people, more Jews would have survived.
[h/t NPR]
[image via screengrab]
— —
Follow Josh Feldman on Twitter: @feldmaniac
Have a tip we should know? tips@mediaite.com
Josh Feldman - Senior Editor