Police Reported to Navy That Aaron Alexis Was 'Hearing Voices' Weeks Before Navy Yard Shooting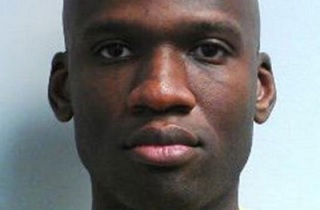 Among the disturbing revelations to emerge about deceased Washington Navy Yard shooter Aaron Alexis is a Rhode Island police report that details a bizarre encounter weeks before the shooting, an incident that police say they reported to the Navy. According to the August 7 Newport Police report, Alexis called police to report "harassment" by three unseen people who were following him, and keeping him awake by sending "vibrations into his body."

Newport Police Officer Seth Mosely filed this report (Aaron Alexis' name was redacted from the report):
On August 7, 2013, I was assigned to car 1. At about 0623  hours, Officer Cormier and I were dispatched to the Marriott Hotel, Room 405 for a harassment report. I responded from city yard.

On arrival we met with (redacted). (Redacted) stated that he is a naval contractor and that he travels often. (Redacted) went on to explain that while getting onto his flight from Virginia to Rhode Island he got into a verbal altercation with an unknown party in the airport. (Redacted) believes that the individual that he got into an argument with has sent 3 people to follow him and keep him awake by talking to him and sending vibrations into his body. (Redacted) stated that he has not witnessed any of these individuals, but believes they are two black males and a black female. (Redacted) stated that he first heard them talking to him through a wall while at the Residence Inn in Middletown. (Redacted) then packed up and went to a hotel on the Navy base where he heard the same voices talking to him through the walls, floor, and ceiling. (Redacted) stated that he moved to his third hotel, and was currently at the Marriott. (Redacted) first said that the 3 individuals were speaking to him through the floor. Then (redacted) stated that the voices were coming through the ceiling. (Redacted) stated that the individuals are using "some sort of microwave machine" to send vibrations through the ceiling, penetrating his body so he cannot fall asleep. When I asked (redacted) what the individuals were saying to him he would not elaborate. (Redacted) stated that he has never felt anything like this and is worried that these individuals are going to harm him. (Redacted) stated that he does not have a history of mental illness in his family and that he has never had any sort of mental episode. I advised (redacted) to stay away from the individuals that are following him and to notify NPD if they attempt to make contact with him.
At the end of the report is this notation from Sgt. Frank Rosa, who approved the report (Alexis' name and the name of the Navy contact were redacted from the report):
While assigned to OIC on August 7, 2013, I reviewed this report for approval. Based on the Naval Base implications and the claim that the involved subject, one (redacted), was "hearing voices" I made contact with on duty Naval Police (redacted). I advised (redacted) of the report and the claims by (redacted). I then faxed (redacted) a copy of the report. (Redacted) advised me that (redacted) would follow up on this subject and determine if he is in fact, a naval base contractor. No further action at this time.
This incident is just the most recent in a string of contacts with police that has many wondering how Alexis retained his security clearance. Here are the police records related to Alexis' past incidents:
[imageviewer id=1161]
[photo via Ft. Worth Police]
Have a tip we should know? tips@mediaite.com