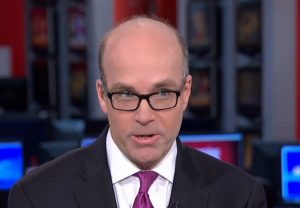 Mike Allen is often described as one of the most powerful journalists in D.C., so it makes sense that Breitbart News is hyping up a compliment he gave them. Here's a headline that's currently featured on their site: "Mike Allen: 'Very Smart' Breitbart News Sees Business, Tech, Media, Politics 'Colliding and Converging'."
The site is extremely controversial, though, which is why other journalists and news consumers are so shocked that Allen praised it. Recently, they've been lambasted by the police for making up a story about Muslims attacking a German church and were penalized by Kellogg's with ad revocation because the ideology featured on the site wasn't "aligned with [their] values as a company." Breitbart is commonly thought of as a broadcasting hub for the leaders of the alt-right.
Here is what Allen said during an appearance on the site's SiriusXM show to promote his forthcoming project, Axios:
We admire so much of what's been built at Breitbart and … one of the things we like about Breitbart is you do things people aren't. And both journalistically and as a business, that's a great place to be right now … There's never been a time where people are hungering for something new. So much of the legacy media right now is discredited, defensive, and as you know and your listeners benefit from, people are so hungry for illumination about this "New World," the new Washington, the new media. So much of it took large swaths of the electorate and both the people who bring us our news and make news by surprise. So it's a great time to be starting something new.
He went on to say that Axios will cover business, tech, media, and politics, then saying, "Breitbart has been very smart about this, seeing that those topics, of course, are colliding, converging, and coming together."
"We admire your coverage. We admire what Andrew Breitbart and his successors have built," he said. "What an amazing road the country and we are on. For people in the media who are listening, for you guys, enjoy this, soak it in. This is a once-in-a-century moment in journalism and in our country's history and we're very, very fortunate to have a front-row seat."
Reactions haven't been extremely positive:
@oliverdarcy @mikeallen The politico alums are like Halperin: craving access, zero core beliefs, just love the game of it all. Sociopathic.

— Mike Mitchell (@MikeMitchNH) January 9, 2017
@jayrosen_nyu @mikeallen "You do things that people aren't," bc they have ethics.

— RRR (@hyphenrr) January 9, 2017
@JuddLegum @sandymaxey The only explanation is that these outlets are judged as propaganda tools.

— Michael Miles (@_m_miles) January 9, 2017
Allen was — the journalist who posted the photos of Trump's chummy, off-the-record media party that caused such a firestorm in mid-December — has now denied that he praised the site at all.
In a chat with Erik Wemple Blog, he said, "[Anyone who listens to the interview] will see that I was making a very specific point about media doing things differently. That is in no way an endorsement of anything that they do and it's been twisted to sound that way. I was in no way endorsing anything they do. This Twitter twisting and hyperventilating is absurd."
Listen here for yourself:
[image: screengrab]
Have a tip we should know? tips@mediaite.com