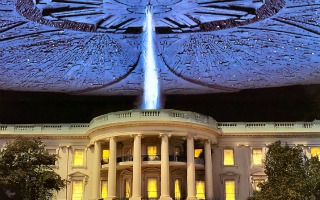 Who would you rather have a beer with? Who would you prefer have babysit your kids? Who would you rather take on a road trip to see the annular eclipse? These and other meaningless questions are asked of voters every quadrennial presidential cycle as pollsters' tire of the boring and static head-to-head matchup. Well, a poll by USA Today, commissioned for National Geographic, has finally pierced the heart of the issue voters are really concerned about about but dare not speak of – which candidate would better handle an alien invasion. The answer: President Barack Obama.

RELATED: New Poll Shows Obama Leading In Ohio, Florida, Pennsylvania
65 percent of those surveyed trust President Obama handle the crisis that accompanies an alien invasion of Earth better than Republican presidential candidate Mitt Romney.
21 percent would prefer Marvel Comic's Hulk would take on the invaders. Only 12 percent left the crisis to the capable hands of Batman and just 8 percent said the same of Spider-Man.
17 percent of poll respondents do not believe in aliens while 36 percent do. 48 percent were not sure.
However, 79 percent believe that the government has kept information about alien life secret from the public. 55 percent of those surveyed believe there is a federal agency akin to the Men in Black whose job it is to keep those who spot UFOs from spilling their findings to the press.
The survey was commissioned for National Geographic Channel's new series Chasing UFOs which primers on Friday at 9 p.m. EST.
h/t Politico
> >Follow Noah Rothman (@Noah_C_Rothman) on Twitter
This is an opinion piece. The views expressed in this article are those of just the author.