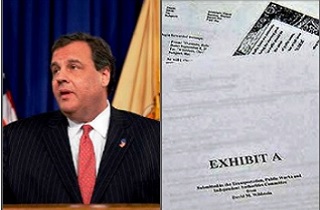 In the state where Governor Chris Christie (R-NJ) won reelection by a landslide and enjoyed a 65% approval rating just last month, a majority of likely voters now believe that the Governor knew about a political retribution scheme involving lane closures at the George Washington Bridge.
That poll, conducted by Rasmussen, asked 800 likely voters in New Jersey "How likely is it that Governor Christie was aware at the time that traffic lanes onto the George Washington Bridge were being closed as retaliation against the mayor of Fort Lee for refusing to support Christie's reelection?" A total of 54% responded that it was at least "somewhat likely," with 30% responding "very likely," while only 17% said it was "not at all likely" that Christie knew about the closures as they were being executed.
At a press conference on Thursday, Christie not only denied knowing about the closures (now known as "Bridgegate") at the time, but even denied knowing anything was amiss until the revelation of texts and emails last Wednesday.
In spite of the results on that question, Christie still enjoys a 60% approval rating in the state, higher than President Obama's 52% approval rating in the survey. Other findings from the poll include:
56% say Christie should resign "if it is proven that Christie approved of retaliation against an elected official who refused to support him."

39% of New Jersey voters say the Bridgegate story will make them less likely to vote for Christie in the 2016 presidential election.

14% say the Bridgegate story will make them

more

likely to vote for Christie in 2016.
Have a tip we should know? tips@mediaite.com