Poll: Most NYers Disapprove of NYPD Back-Turning, Really Dislike Al Sharpton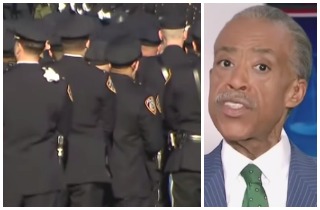 A new Quinnipiac poll provides insight into what New Yorkers think of the recent fighting between the NYPD and Mayor Bill de Blasio. And no one––not the police, not de Blasio, not even Al Sharpton––comes out looking particularly well in all this.
First, the NYPD. Officers turned their backs to de Blasio several times, including the two incidents at the services for their slain brothers in blue. A whopping 69 percent of New Yorkers disapprove of that action on their part, and 77 percent said NYPD union head Pat Lynch's comments about de Blasio having blood on his hands were "too extreme."
57 percent also believe that officers should be disciplined for a deliberate work slowdown, but overall 56 percent approve of the job the NYPD is doing. If you look at the results by race, though, 66 percent of whites approve of the NYPD's job performance, compared to only 41 percent of blacks.
As for de Blasio, 47 percent believe he does support the police (blacks believe this more so than whites do), and majorities also believe he's doing a good job handling crime and white-black relations (though again, the racial gap is prominent).
45 percent of New Yorkers who say the relationship between de Blasio and the NYPD is "generally bad" blame de Blasio for this, while only 43 blame the police.
As for Sharpton, only 29 percent view him favorably, compared to 53 percent who don't. And 51 percent of voters believe that Sharpton is a "mostly negative force in New York City."
You can read the full poll results here.
[image via screengrab]
— —
Follow Josh Feldman on Twitter: @feldmaniac
Have a tip we should know? tips@mediaite.com
Josh Feldman - Senior Editor