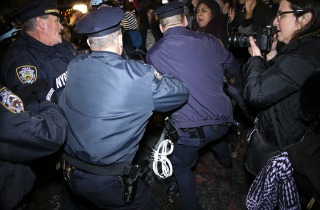 Policing in black communities has become a big national issue over the past few months, and a new NBC News/Marist poll shows that a record high percentage of white people believe that law enforcement does not generally treat African-Americans unfairly.
83 percent of whites say they have a great deal or at least a fair amount of trust in local police, compared to 50 percent of blacks. 79 percent of whites are confident police won't use excessive force, while only 43 percent of blacks agree.
But perhaps the biggest disparity shows up with two questions specifically about race. First: "How much confidence do you have in police officers in your community to treat blacks and whites equally?" 52 percent of whites said a great deal, 26 percent said a fair amount, and only 19 percent said some or very little.
Compare that to 12 percent of blacks saying a great deal, 21 percent saying a fair amount, and a whopping 63 percent saying some or very little.
Secondly, the question "Do you agree or disagree that law enforcement applies different standards to whites and blacks?" 42 percent of whites strongly disagree; 80 percent of blacks strongly agree.
Meanwhile, the reaction to the Michael Brown and Eric Garner cases also split across racial lines. 21 percent of white people said the decisions increased their confidence in the justice system, with 35 percent each saying their confidence decreased/made no difference. 70 percent of the black people polled said the cases decreased their confidence in the justice system.
You can read more of the poll results here [PDF].
[h/t WaPo]
[image via a katz/Shutterstock]
— —
Follow Josh Feldman on Twitter: @feldmaniac
Have a tip we should know? tips@mediaite.com
Josh Feldman - Senior Editor