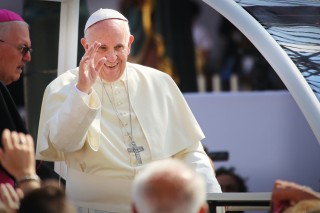 Pope Francis made a landmark statement while flying back to Rome from a visit to Armenia. He suggested that Christians should apologize to the gay community for mistreating them and seek forgiveness for treating them in such a way. The comment was made in reference to a question asking if the Pope agreed with comments made by German Cardinal Reinhard Marx saying that the Catholic Church needed to apologize for the way it has treated gays and lesbians in the past.
These comments were made in the wake of the Orlando mass shooting at a gay nightclub, which The Holy Father had earlier condemned as "homicidal folly and senseless hatred."
"We Christians have to apologise for so many things, not just for this (treatment of gay people), but we must ask for forgiveness. Not just apologise — forgiveness," the Pope said, according to News24.
"The question is," he continued, "if a person who has that condition, who has good will, and who looks for God, who are we to judge?"
This comment stems from an earlier remark in his papacy saying "Who am I to judge" when it comes to gay people. The comments have received criticism from the more conservative sects of the Catholic Church, but are evidence of a new Vatican that is attempting to seek forgiveness for its past transgressions. It also shows that the Vatican is attempting to take a more conciliatory approach to the gay community.
"I think that the Church not only should apologise… to a gay person whom it offended but it must also apologise to the poor as well, to the women who have been exploited, to children who have been forced to work," Pope Francis added.
Have a tip we should know? tips@mediaite.com