Young Questioner Corners Palin: How's Trump Not Sexist After Megyn Kelly 'Blood' Remark?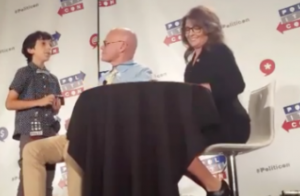 Former Alaska governor Sarah Palin appeared yesterday at Politicon, where she engaged in a full-force debate over why Donald Trump ought to be president. Interestingly enough though, the toughest question might not have come from her opposing panelist, but from a young boy who caught her in a tough question towards the end.
Palin appeared opposite Democratic strategist James Carville, and they spared on subjects ranging from Palin's gripes with the "lamestream media" to whether her vice-candidacy sunk John McCain's 2008 presidential run. The Daily Beast reported that even though Palin said voters "don't give a flying flip" on endorsements from "has been" politicians, she seemed to imply that giving the mogul her early approval was the kickstart to his backing by the GOP:
"Maybe my endorsement was able to kick off—logistically, I'm speaking, about the timing of everything—kick off and make an empowering movement for other conservatives, other proud clingers to their guns or God and our Constitution, the Tea Partiers, to empower them, allow them to go ahead and support the guy!"
The best question @Politicon panel @JamesCarville VS @SarahPalinUSA was asked by a kid. #Politicon2016 #Politicon pic.twitter.com/K1B2kDU8y0

— Chris Gore (@ThatChrisGore) June 26, 2016
The debate eventually pivoted to gun control laws, and after several heated minutes of back-and-forths, the two invited a 10-year-old questioner to the stage. His question, however, was one that Palin didn't seem pleased with.
"How can you endorse someone who's sexist" the boy asked, specifically referencing Trump's attacks on Fox host Megyn Kelly with his "blood coming out of her whatever" remark.
"Donald Trump isn't sexist. If he were, I wouldn't be endorsing him," Palin said, leaving it at that.
You can watch the complete debate here, via Politicon's Facebook page.
[Image via screengrab]
— —
>> Follow Ken Meyer (@KenMeyer91) on Twitter
Have a tip we should know? tips@mediaite.com