Pope Clarifies Hebdo Remarks: Free Speech Minus Retaliation Sounds Good 'In Theory'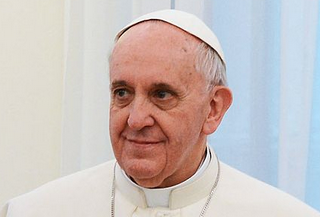 Pope Francis today clarified his remarks about Charlie Hebdo, saying the idea of free speech and provocation without retaliation sounds good "in theory" but is not how the world operates. Just days ago, His Holiness told reporters that you can't provoke someone without expecting them to get angry.
He used an analogy and said that if his aide were to badmouth his mother, he would punch him in the face.
Charlie Hebdo editor Gerard Briard responded yesterday by arguing, "Every time that we draw a cartoon of Muhammad, every time we draw a cartoon of a prophet, every time we draw a cartoon of God, we defend the freedom of religion."
In comments to reporters today, Pope Francis clarified those earlier remarks by saying free speech without consequences is an unrealistic ideal:
"In theory we can say a violent reaction to an offense or provocation isn't a good thing, that one shouldn't do it. In theory we can say what Gospel says, that we should turn the other cheek. In theory we can say that we have the freedom to express ourselves. But we are human. And there is prudence, which is a virtue of human coexistence. I cannot insult or provoke someone continually because I risk making him angry."
He also shared an anecdote about a run-in he had with corrupt public officials once, and said he preferred to "play the fool" instead of trying to, in the Pope's words, "insult them and kick them where the sun doesn't shine."
[image via Casa Rosada]
— —
Follow Josh Feldman on Twitter: @feldmaniac
Have a tip we should know? tips@mediaite.com
Josh Feldman - Senior Editor