Populist Former Montana Gov. Stakes Out Positions to the Left of Clinton, Pledges Clemency for Snowden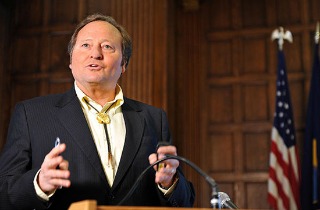 For month, Montana's populist former Democratic Gov. Brian Schweitzer has been quietly staking out a position to the left of his party's likely Democratic presidential nominee in 2016, former Secretary of State Hillary Clinton. Today, however, Schweitzer's effort is no longer so quiet.
In his bid to capture the progressive sentiment within the Democratic Party which already cost Clinton her party's presidential nomination once, Schweitzer took ownership of a wedge issue which resonates with the party's left-wing – NSA leaker Edward Snowden and domestic intelligence gathering programs. Speaking exclusively with Slate's Dave Weigel, Schweitzer took shots at Clinton's hawkishness and advocated for clemency for Snowden.
"Do you agree with the Times? Would you grant clemency?" Weigel asked.
"If Edward Snowden is a criminal, then so are a lot of people that are working within the CIA and the NSA who have been spying illegally on American citizens," Schweitzer replied. "They ought to grant Snowden clemency.
Now, let me say this: Shame on us if we had a person working for a private contractor, without a high school diploma, who was in possession of our most delicate secrets. We look like Keystone Kops! But I don't have any problem with the NSA and their mission of collecting information on foreign leaders. They spy on us; we spy on them. I've got a real big problem with American neighbors spying on American neighbors.
RELATED: Crossfire Guest-Host Schweitzer Calls Fox, MSNBC 'Hair on Fire' Networks
The former Montana governor also took aim at America's two wars in Iraq and Afghanistan, both of which Clinton voted to permit. He said that the Iraq War and the occupation of Afghanistan were mistakes.
"Six months after we arrived in Afghanistan, al-Qaida was gone. They'd left," Schweitzer insisted. "So now, in the longest war in the history of the United States, we're fighting someone called the Taliban—never attacked us, never tried to attack us. They live in the Stone Age. I've been there. Even if they wanted to attack us, they wouldn't find a way."
In the interview, Schweitzer took aim at the United States' close relationship with the Saudi royal family. He advocated for the U.S. to be "neutral" and indicated that the Iranian government is partially motivated to pursue nuclearization as a result of America's cooperation with the Saudis.
"If we can build a relationship that's a little more even-handed, if we can get them to back away from their nuclear ambition—let's face it, their neighbors don't even like that—if we were to step up and said we're no longer just going to take the Saudis' position all the time, you don't have to worry about us attacking you from Afghanistan or Iraq, if you agree to back away from your nuclear ambitions, we'll be neutral," Schweitzer said.
[Photo via AP]
— —
> >Follow Noah Rothman (@NoahCRothman) on Twitter
Have a tip we should know? tips@mediaite.com