Prep for Tonight's WHCD by Watching President Obama (& Seth Meyers) 2011 Trump Heavy Roast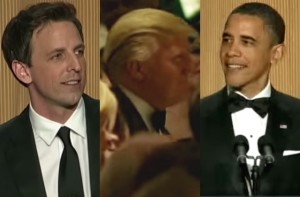 Tonight is the final White House Correspondents Dinner of Barack Obama's presidency, and to prep for all the jokes we're getting this time around, this might be the best time to look back on the remarkably Donald Trump-heavy 2011 roast.
Yes, back in 2011, Trump was a birther (and probably still is, but God forbid anyone outside of Chris Matthews confront Trump about whether he thinks the President of the United States is legitimate or not). He was openly talking about having his people in Hawaii looking into the matter, and the state released his long-form birth certificate to put this crap to rest.
So at the dinner, the President of the United States made a lot of jokes at The Donald's expense. He literally started out his monologue by releasing his "birth video."
But later on (starting at the 8-minute mark below), the president did a whole bit on conspiracies and other things Trump should be getting to the bottom of. And that's when things got harsh:
"Obviously, we all know about your credentials and breadth of experience. For example––no, seriously, just recently, in an episode of Celebrity Apprentice––at the steakhouse, the men's cooking team cooking did not impress the judges from Omaha Steaks. And there was a lot of blame to go around. But you, Mr. Trump, recognized that the real problem was a lack of leadership. And so ultimately, you didn't blame Lil' Jon or Meatloaf. You fired Gary Busey. And these are the kind of decisions that would keep me up at night."
And then it was Seth Meyers' turn. He had some fun talking about the birth certificate, but his Trump jokes were pretty harsh too.
"Donald Trump has been saying he will run for President as a Republican," he said, "which is surprising since I just assumed he was running as a joke."
And that was only the starting point.
Watch both speeches above, via C-SPAN. And check back tonight for Mediaite's coverage of President Obama and Larry Wilmore's speeches tonight.
[image via screengrab]
— —
Follow Josh Feldman on Twitter: @feldmaniac
Have a tip we should know? tips@mediaite.com
Josh Feldman - Senior Editor