President Obama: I Would 'Have To Think Long And Hard' Before Allowing Hypothetical Son To Play Football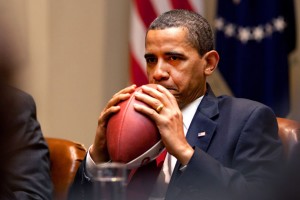 The New Republic is out with a two-on-one sitdown between President Obama and TNR editors Chris Hughes and Franklin Foer, and among the topics discussed was the emerging, ugly specter of Chronic Traumatic Encephalopathy (CTE) in football, both professional and amateur. The President confessed that, although he's a big football fan, "if I had a son, I'd have to think long and hard before I let him play football."
Lest he start a deadly beer riot, the President added that he's more worried about college players than those in the NFL, who, he pointed out, "have a union, they're grown men, they can make some of these decisions on their own, and most of them are well-compensated for the violence they do to their bodies."
As more information emerges about the effects of head trauma on football players, aided by high-profile events like the suicide of Junior Seau, some are questioning whether it is even possible to make the game safe to play. In this portion of The New Republic's interview, President Obama seemed to think it is:
Franklin Foer: Sticking with the culture of violence, but on a much less dramatic scale: I'm wondering if you, as a fan, take less pleasure in watching football, knowing the impact that the game takes on its players.
President Obama: I'm a big football fan, but I have to tell you if I had a son, I'd have to think long and hard before I let him play football. And I think that those of us who love the sport are going to have to wrestle with the fact that it will probably change gradually to try to reduce some of the violence. In some cases, that may make it a little bit less exciting, but it will be a whole lot better for the players, and those of us who are fans maybe won't have to examine our consciences quite as much.

I tend to be more worried about college players than NFL players in the sense that the NFL players have a union, they're grown men, they can make some of these decisions on their own, and most of them are well-compensated for the violence they do to their bodies. You read some of these stories about college players who undergo some of these same problems with concussions and so forth and then have nothing to fall back on. That's something that I'd like to see the NCAA think about.
This isn't the first time President Obama has imagined what it would be like if he had a son, but it is worth noting, in the same week that his administration lifted the ban on women in combat, that the President does have two daughters, neither of whom play football.
The full interview is available here, and will be featured in the January 28 edition of The New Republic.
Have a tip we should know? tips@mediaite.com