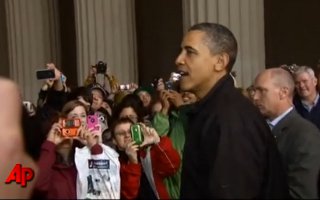 President Barack Obama was clearly thrilled – and relieved – last night when Congress agreed to a budget deal that prevented a government shutdown. The Washington Monument was behind the president when he gave his address announcing the deal, and he proudly noted that thanks to the agreement, it would remain open. And today, Obama celebrated the deal once again by paying a visit to another Washington landmark, the Lincoln Memorial.
In what the Wall Street Journal's Carol E. Lee noted had the distinct feel of a campaign stop, Obama shook hands with – and in the case of one young man, high-fived – guests, and took time to once again address the budget deal:
"I just wanted to say real quick that because Congress was able to settle its differences, that's why this place is open today and everybody's able to enjoy their visit, and that's the kind of future cooperation I hope we have going forward. 'Cause this is what America's all about – everybody from different places enjoying those things that bind us together. It's wonderful to spend time with you guys – I hope you have a great time."
While we're still not sure that Congress barely avoiding being so completely paralyzed by differences of opinion that it would literally shut itself down is something to celebrate, it does beat the alternative, and no one should be surprised the president is accentuating the positive – after all, this "campaign stop" was only one of many to come. Video of his Lincoln Memorial visit below, via the Associated Press.
Have a tip we should know? [email protected]