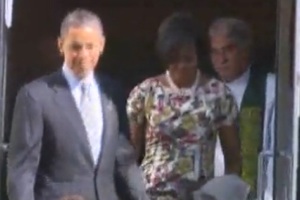 A recently released Pew Research poll shows that an increasing number of Americans, especially Republicans, seem to believe that a self-described Christian President Obama is actually a Muslim. Yesterday the President and the first family attended an Episcopalian church in D.C., and many in the media are suggesting that perhaps the Obama's church visit was meant to combat that misconception surrounding his spirituality. While that's certainly a possibility, maybe they just wanted to go to church?
Writing for The Dallas Blog, Tom McGregor seems to posit that the real reason that the President went to church was to dispel the myth that he is covertly Muslim.
In order to dispel the commonly-accepted myth that President Barack Obama is a covert-practicing Muslim. The nation's commander-in-chief accompanied his family to a church just across the street from the White House.

President Obama strolled across Lafayette Square to attend St. John's Church along with his wife, Michelle and their daughters, Malia and Sasha. As they crossed the park, Sasha held her daddy's hand.

The Houston Chronicle reports that, "Obama has attended the pale yellow Episcopal church three times previously, as well as other churches in the nation's capital. The Obama family hasn't settled on a new permanent congregation since coming to Washington (and abandoning his previous pastor in Chicago, the Rev. Jeremiah Wright).
If the real reason behind the Obama's church visit was to generate "optics" demonstrating his Christianity, then administration officials did a poor job of getting the proper publicity visuals. As one can see in the following clip, the only real video available appears to be from a press pool capturing the family leaving the White House grounds, then leaving the church. In other words, as a press event, they would have had more network cameras available, which suggests to this writer that perhaps Obama would rather continue to keep his spirituality out of the public spectrum.
Have a tip we should know? tips@mediaite.com