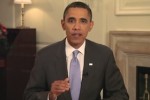 President Obama released a video message via YouTube today that appeared to address some of the negative reaction felt by his supporters in the wake of what many see as more of a White House capitulation than compromise over the debt crisis debate of the last few weeks. While there are the usual political platitudes you'd expect to find in these sorts of messages, there is plenty of meaning to be parsed in the specifics of what he said, namely, his recognition that this deal is "less than satisfying."
The crux of the message is that this deal avoids a default by raising the debt limit, and the balanced approach of raising revenue so that the federal government can control deficit spending (that the White House was so vocal about) will be pushed to the fall when the bipartisan "super committee" will make recommendations regarding raising the revenue and simplifying the tax code.
Obama said: "This has been a long and messy process, and is with any compromise, the outcome is less than satisfying. But it has also launched an important debate about how we approach the big challenges we face, about how we rebuild the economy to create greater economy. Whether we tackle our challenges by drawing upon our best values as one country."
The White House seems to be putting all of their chips on this debate to come, hoping that in the next three months or so, they can convince the American public and the politicians they elected, will reasonably see that there has to be return to pre-Bush era tax rates. If that is not an argument that they can win, we will likely be seeing a one-term president.
Watch the Presidential message below:
(H/T TPM)
Have a tip we should know? tips@mediaite.com