President Scarborough? New Interview Says Joe 'Didn't Rule Out' Interest In White House Run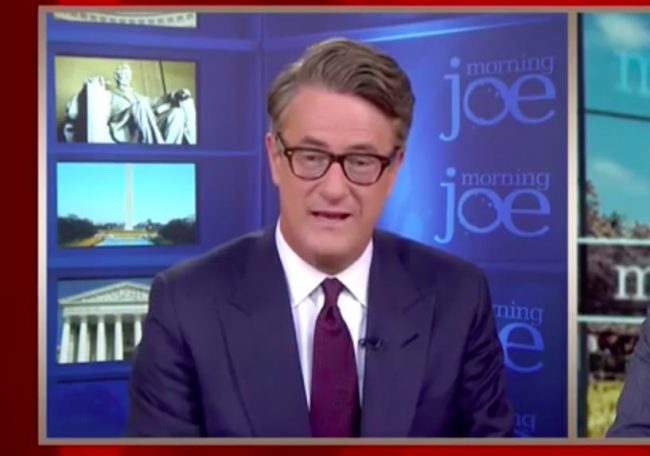 President Joe Scarborough?
If you just spit out your Morning Joe, you're probably not alone, yet thanks to a new, New York Magazine cover profile, the issue can now no longer be ignored.
In the often meandering look at TV news' ultimate power couple, the question of Scarborough's presidential aspirations were brought to the fore.
"He wanted to be president, and he's not. And, of all people, Donald Trump is. This is crazy," a senior White House official told reporter Olivia Nuzzi.
The former GOP Congressman insisted, however, he was happy where he was — though his denials of interest were reportedly less than Shermanesque.
Per NYMag:
Scarborough and Brzezinski said the White House is misrepresenting their motivations, though they didn't rule out that Scarborough might be interested in running for president in the future. "It was never mentioned, never discussed, and anyone who ever said it is a liar," Scarborough said. "No ambiguity there at all. I'm happy right where I am with Mika, music, and Morning Joe," which he calls his "three M's."
While we're still a long way from 2020, in an age when Sen. Kid Rock is now being seriously discussed, even the hint of a Scarborough run cannot be dismissed lightly. If he did throw his hat in the ring, Scarborough would be about a generation younger than most of the Democrats other leading lights, though his centrism would likely run afoul of the identity politics which have consumed the left's activist base in recent years.
In addition to that, Scarborough would also likely face the full fury of Fox News and his arch nemesis Sean Hannity. The fire and brimstone would likely be so ferocious we dare not speculate further.
[image via screengrab]
Have a tip we should know? tips@mediaite.com