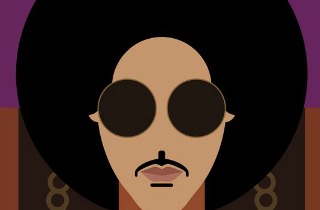 Prince equated record contracts with slavery in a rare meeting with 10 handpicked journalists at his recording studio, Paisley Park.
NPR's Eric Deggans, BuzzFeed's Kelley L. Carter, ESPN's Mike Wilbon and MSNBC's Trymaine Lee were all in attendance when the "Purple Rain" singer brandished his all-too familiar opinions about the recording industry. Yet despite his candor, the musician engaged in a little Alanis Morissette-esque irony by forbidding the group from recording or writing anything down.
As Deggan notes in his now-viral post:
"Record contracts are just like — I'm gonna say the word – slavery," Prince told a group of 10 journalists Saturday night, during a meet and greet at his Paisley Park Studios in Minneapolis. "I would tell any young artist … don't sign."

His pitch to the group was simple: Typical record company contracts turn artists into indentured servants with little control over how their music is used, particularly when it comes to revenue from streaming services playing their music online — and he wants to change that.
The informal sit-down occurred during the annual convention for the National Association of Black Journalists, which was held in the Twin Cities over the weekend. Prince reportedly mentioned the gathering in a since-deleted tweet and invited attendees to his studio. The 900+ crowd was treated to food, music and a short speech from Prince.
Meanwhile, the much smaller group was invited to have a conversation with Prince in private. No questions were off limits, apparently. The caveat? No cellphones or recording devices, and definitely no notes. He wanted to have a genuine, back-and-forth discussion about whatever came up, and all reports indicate that's precisely what he got.
The "slavery" comment has since sent the Internet's reaction machine into high gear. However, the journalists' descriptions of the scene itself are perhaps the most entertaining aspect of the meeting.
Deggan nails it on the head several times:
Cellphones and recording devices were banned for everyone at Paisley Park — as was any kind of alcohol — so no photos or audio of his words were recorded.

Sitting at the head of a glass table emblazoned with his trademark image combining the astrological symbols for male and female, Prince wanted to talk up his new alliance with Jay Z and the rap star's new music streaming service, Tidal.
Asked how he would get his message out, Prince chuckled and looked at the group crowded around his conference table. "That's why you're here," he laughed.
Carter, meanwhile, notes how unprepared the group felt — a condition Prince thoroughly enjoyed:
I don't think anyone in the room was exactly prepared for an interview, and Prince seemed to like that lack of formality. We were not allowed to bring cell phones or cameras to the party, and we weren't allowed to take notes — this is a long-standing caveat for his rare encounters with journalists. The singer said he much preferred having organic conversations like this one.
For a man who desires to help free musicians from the shackles of the recording industry, music streaming services and popular radio, he sure did enjoy mastering over a bunch of journalists.
[h/t NPR, BuzzFeed, Minneapolis Star Tribune]
[Image via NPG Records, Shutterstock.com]
— —
>> Follow Andrew Husband (@AndrewHusband) on Twitter
Have a tip we should know? [email protected]