'Private Sector Velocity': White House Brings Microsoft in to Fix Obamacare Site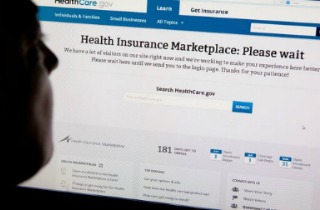 The Center for Medicare and Medicaid Services famously announced in early December that the process of triage "fixes" for the Affordable Care Act's federal insurance exchange web portal was a great success. How did they define this success? Well, conservatives had a hearty chuckle when the CMS decided the most apt way to describe the newly functional site was to assert that it was now functioning with "private sector velocity." This implicit condemnation of public sector competence warmed the hearts of conservative critics of the ACA already reveling in vindication.
Well, the hits just keep on coming from this White House. In a race to provide Republicans with an even more rhetorical victories relating to the implementation of the ACA than they presently enjoy, the administration announced on Tuesday that Kurt DelBene, an executive with Microsoft, will replace Jeff Zients as the czar in charge of repairing the faulty ACA exchanges website.
But then the administration did the oddest thing:
"The White House and the Department of Health and Human Services didn't immediately comment," POLITICO reported on Tuesday.
Really? No prepared comment? Not even a, "We welcome Kurt to the team – his expertise will be invaluable," or "we will miss Jeff – he has been a priceless addition to the team."
This move is a tacit admission that no amount of experience navigating the bureaucratic morass in Washington will help repair the deeply flawed exchanges. Only a software expert from the area of American life with a record of efficiency in meeting assigned deliverable schedules will do.
But the White House cannot even muster one sentence in support of their own decision? We know this administration is loath to provide their opponents with talking points they can use to bludgeon the president. Beyond simply the issues associated with the website, much of the predicament this White House find itself in with regards to the ACA's flawed implementation is, as the Washington Post reported, the result of their desire to postpone writing of health care reform regulations in order to avoid handing Mitt Romney's campaign any ammunition to use against the president or his signature achievement.
But the decision to bring in a Microsoft executive on board to spearhead the most complex part of the insurance exchange repair process – building and quality control testing the backend code responsible for payment and data transfers to insurers – is, in a way, an admission of failure. It signals that the administration has finally come to terms with the fact that continually expanding government is of limited marginal utility.
Now, if only they could bring themselves to say as much.
[Photo via AP]
— —
> >Follow Noah Rothman (@NoahCRothman) on Twitter
Have a tip we should know? tips@mediaite.com