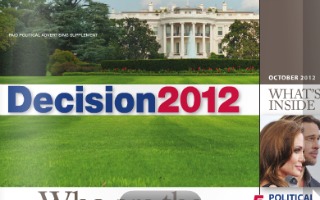 We all know that, come election season, there's nothing people in swing states love more than seeing a political ad pop up on television approximately every 7.6 seconds. But, you know. Celebrity magazines just don't seem to have that divisive, obtrusive, constant barrage of political messaging we so love and desire. Whither the news of stars being "Just Like Us" because they use between two and 87 exclamation points when commenting on political blogs, or a "Who Wore it Better" piece all about candidates' ubiquitous American flag pins? Thankfully, swing state residents can now get their fix in glossy print form, too: Introducing MittZine, the celebrity-spangled tabloid magazine put together by the pro-Romney Super PA "Ending Spending Action Fund."
The 12-page pullout will be featured as a supplement in several papers, and contains stories about actress and activist Angelina Jolie's ideological differences with boyfriend Brad Pitt's conservative Republican mother, as well as an article on the White House having declined Oprah Winfrey's offer to help with the First Lady's healthy kids initiative.
The Hollywood Reporter offers us a glimpse inside the MittZine:
"Gossip mags say Angie complained to Brad about his mother's outspoken conservatism," according to the story in MittZine. "Voight has defended Mrs. Pitt's right to speak her mind, and attacked the media for unduly criticizing a 'very honorable and intelligent' Mitt Romney."

The cannily retro magazine also includes a recitation of stories alleging the White House snubbed Oprah Winfrey when she offered to help First Lady Michelle Obama with her healthy kids initiative.

"When Oprah offered a TV program to aid Michele's [sic] fight against childhood obesity, Oprah received a curt reply: 'This wouldn't fit into the First Lady's plans,'" dished MittZine.

The professionally produced magazine also is filled with stories of Romney is heroic and humanizing roles—helping a Bain Capital colleague to find a runaway child and pitching in to save a sinking pleasure boat on Lake Winnipesaukee in New Hampshire.
The Super PAC, which is founded by Ameritrade founder Joe Ricketts, reportedly spent more than $1 million to produce 4.5 million copies of the MittZine.
You can check it out online, too.
h/t THR
Have a tip we should know? tips@mediaite.com