Pro-Trump Group Named for Mussolini Appoints Itself to Monitor Protest Activity Online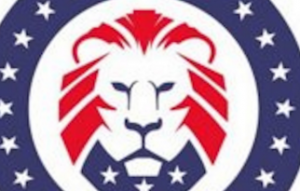 Ever since last week, when protesters successfully shut down a Donald Trump rally in Chicago, a group that calls themselves the Lion Guard has stepped up to monitor "anti-MAGA" (as in Make America Great Again) activity online before it can spill out into the real world. For this particular right-leaning group, Trump's rallies are somewhat of a safe space.
They got their name from that extra–controversial time Trump retweeted the following Benito Mussolini quote:
It is better to live one day as a lion than 100 years as a sheep.
They aren't just into idolizing fascists, either. The group tweeted about famed Communist Mao Zedong today:
Mao had the Red guard, Bernie has the #BernOut Guard #lolberals #TrumpTrain #SayNoToSocialism #lolCommies #MAGA #AlwaysTrump #OnlyTrump

— Lion Guard (@lionsoftrump) March 18, 2016
That is even more interesting considering that on their website, they wrote, "Platform denial through infiltration and sabotage is not free speech, that is Red terrorism."
Their website also details what the members of the group found to be the last straw and to see it in their own words is important here:
On March 11, 2016, five decades of radical left coddling reached its newest and most disgusting low as members of the free stuff cult, by deception and violence, attacked the Trump 2016 rally in Chicago, Illinois. In his magnanimity and concern for public safety, Donald Trump responded by canceling the rally. The Spartacists posers crowed they had canceled the rally, chanting they "Stumped Trump."
They call themselves the "voluntary eyes and ears of Make America Great Again" and instruct their followers to monitor social media obsessively to find any plans to infiltrate Trump rallies. Here is how one of their followers reacted to the formation of the group: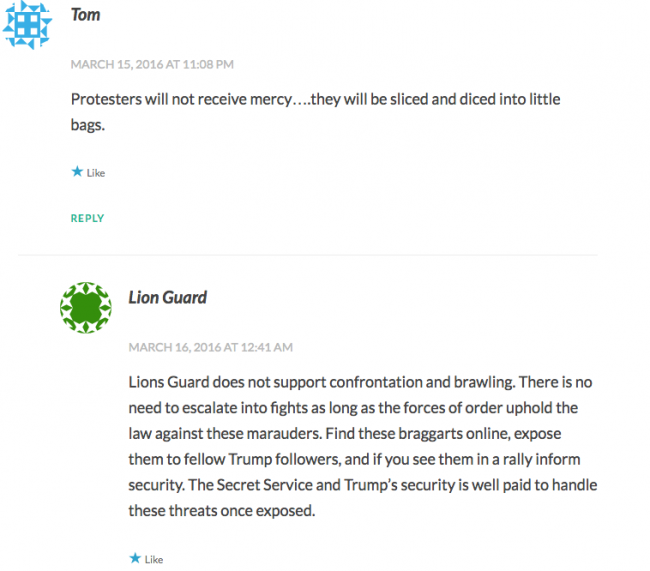 Although they have stated that they are not interested in and do not condone violence, they do post photos of people who express an interest in protesting Trump's events to their Twitter account, making them easy to identify for people who might think along the same lines as commenter Tom.
They are also doing end-of-day reports that calculate their new followers and how many Bernie Sanders supporters they claim to have made cry or who were "told off."
@lionsoftrump
2/2
Fat heads told off: 2#BernOut tears: infinite
sides: obliterated#TopKek #lol #rofl #SayNoToSocialism and #LiberalLogic

— Lion Guard (@lionsoftrump) March 18, 2016
What do you think? Are their tactics warranted? Are they safe?
h/t Salon
[image via screengrab]
For more from Lindsey, follow her on Twitter.
Have a tip we should know? tips@mediaite.com